Could summer punch be the next wedding trend?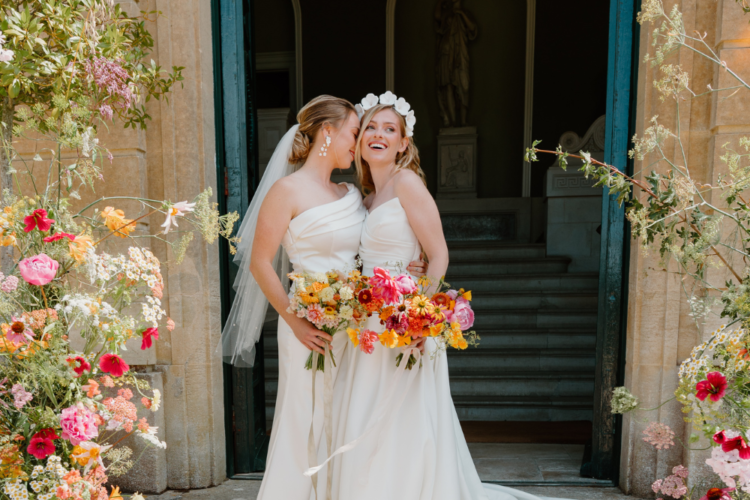 We love to see new trends coming into the wedding sector. Over the years, we've seen many different wedding themes and colour schemes; from Cadbury purple to boho chic, from neutrals to blush pink and sage green.
But we're starting to see a new trend emerge.
One that we think could gain huge popularity for 2024 summer brides.
The summer punch wedding trend is really picking up steam. If you've not yet come across it, it's a trend that adds vibrancy and vivacity to your wedding.
Summer punch weddings are a way of pops of colour to the theming, from your décor to your outfits, through your floral choices to your accessories. You can even incorporate it into your wedding entertainment!
Why is summer punch the must-have wedding trend of 2024?
For us, it's about creating something a little bit different.
As experienced wedding planners in Devon, we've helped hundreds of couples create their dream weddings. Some want big, formal events, while others want something smaller and more intimate.
If you've read through any of our articles on how to pick a wedding theme or how to choose a wedding colour scheme, you'll know that we always suggest picking something meaningful to you and your fiancé.
With a summer punch wedding, you have more options than ever to take an overarching theme and make it your own.
That's because summer punch weddings are about injecting colour and life into your overall wedding aesthetic. You might choose to go with purples/pinks, or you could stick with red and orange tones – or a combination of them all.
We love this because it feels like the trend for neutrals, monochromatic styles or pastel colours has been around forever. While these wedding themes are timeless and classic, it's really nice to show some creativity and wow your guests with something they've not seen before.
Summer punch is in fact so trendy, that it beautifully aligns with the Pantone colour of the year 2023 and now 2024 where the colour is Apricot Crush. This stunning tone is the perfect transition colour, as it works well as a lead into summer, as well as the shift from summer to autumn – truly a hardworking hue!
How to incorporate a summer punch wedding
The joy of a summer punch wedding is that you can decide how big, or small you want to go with your theme.
You can go all-out with vibrant colour palettes throughout your entire wedding style, or you could be more subtle and choose smaller pops of colour that stand out against a calmer backdrop.
Here are some options you could consider.
Fashion choices
There are many ways to bring the summer punch trend into your fashion choices, from footwear to accessories.
We love to see a brightly coloured shoe peeking out from a classic white bridal dress; it always adds extra interest to the wedding photos. But you could also experiment with hair accessories, jewellery and even your bridesmaid dress colours. Even quirky accessories like sunglasses or handbags could be that pop of colour you add to a black-and-white or greyscale photo.
Alternatively, instead of choosing matching bridesmaid dresses, why not select a plethora of colours, each injecting a touch of summer punch into your photos?
Floral arrangements
Any florist will tell you a traditional wedding floral arrangement will include lots of greenery and foliage. While we all know that we can choose our flower colour scheme and match it to our ribbons, we love that a summer punch wedding can give many more options to get creative with your flowers.
To start, the bouquet could feature vibrant tones of purple and orange petals, a mix of hot pink with purple and yellow, and accents of lime green or even blue. You can create something truly unique by choosing contrasting colours and playing around with textures and flower sizes.
If you want to add floral arrangements to your table décor, why not go for something more subtle? You could introduce a gradient scheme to your flowers with your top table. Why not start one end of the table with subtle pops of colour, then gradually increase the vibrancy to the happy couple before fading out again along the table? It could be a great visual way to highlight the bride or groom.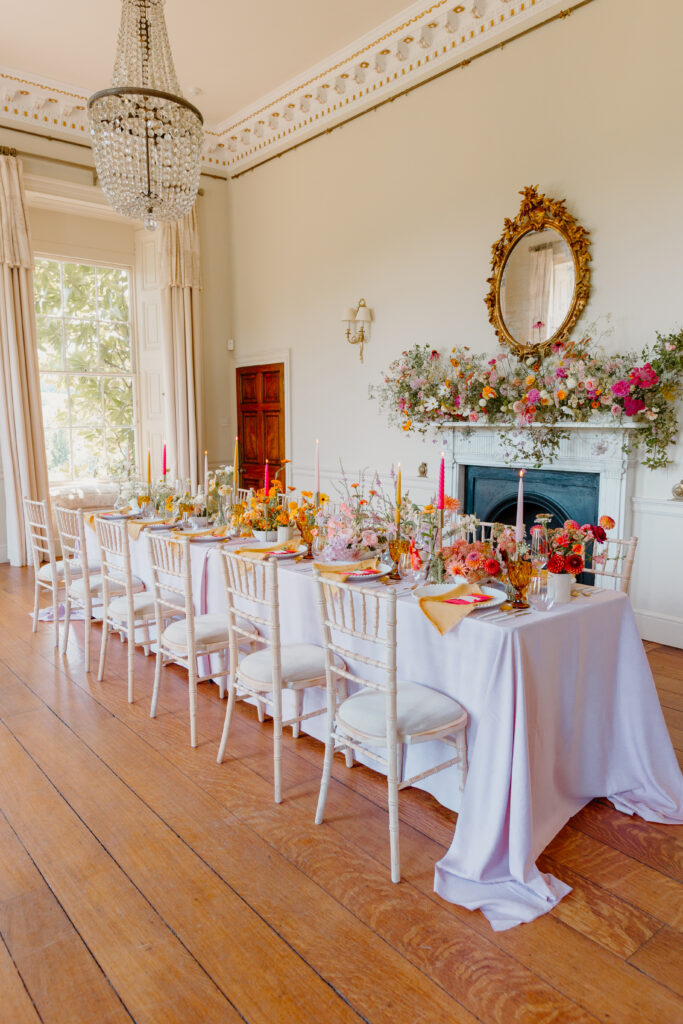 Wedding accessories
There are so many accessories that you could bring into your summer punch wedding theme. The great news is that with bright colours freely available on the high street, you don't need to spend a lot to have a considerable impact.
If it is due to rain on your wedding day, why not organise umbrellas or welly boots for your wedding party in your summer punch colours? It would be a lovely way of adding some sunshine to even the dreariest days.
In the summer sun, why not bring in sunglasses or parasols to offer shade and a little bit of personality? Adding a combination of summer punch colours along with their pastel counterparts can bring in a unique contrast, adding plenty of details to wow your guests and shake up your photos.
Wedding cake
We love a brightly coloured cake. With so many icing colours to choose from, why stick with a traditional white cake when you can go bold and really make an impact?
Historically, cakes have been white iced with colour incorporated through ribbon ties or floral details. But with summer punch trends, you can go as big and bold as you want. Choosing a brightly coloured wedding cake or even subtle pops of colour can add to the occasion and give you a cake to remember.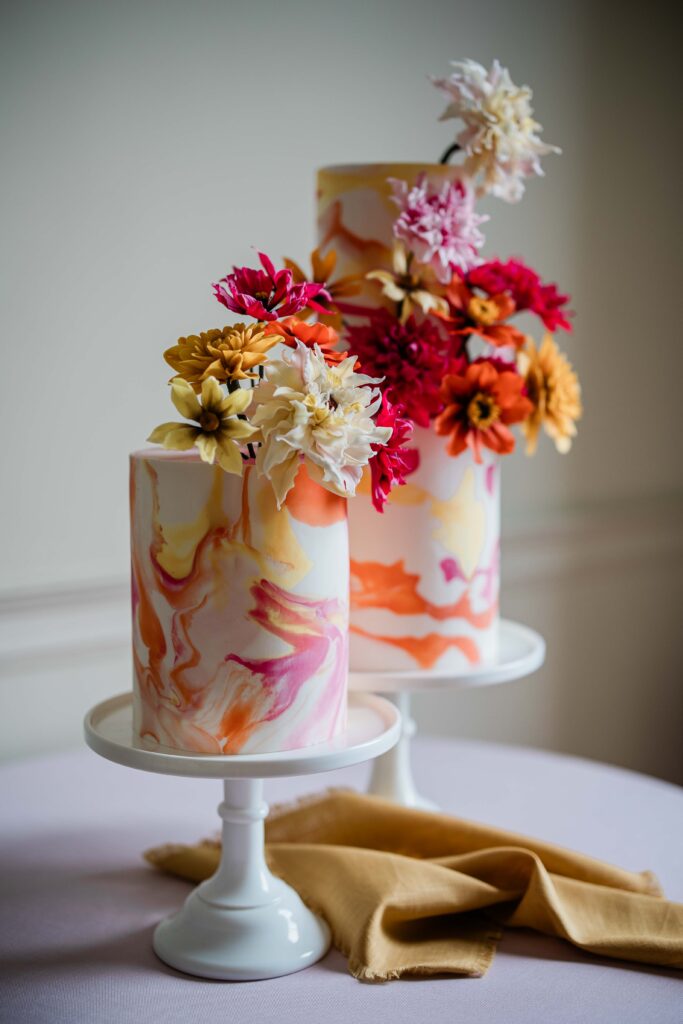 Table décor
Vivid colours can be timeless, especially if you mix them with neutral tones or pastel colours for added impact.
When it comes to table décor, why not choose a mix of tones for your candles or table linen? It can help you to add exciting features and stop your overall wedding aesthetic from looking too matchy-matchy.
Entertainment
You can even bring in summer punch to your entertainment!
Of course, the obvious option is to devise your own summer punch cocktail for guests as a welcome drink or for a toast.
But why not incorporate your summer punch wedding colours into your photo booth? We absolutely adore the Margot Camper photobooth, a stunning pink campervan that doubles up as a photo booth with a wide range of props. It'll add so much fun to your big day that everyone will have a whale of a time taking photos and making memories that will last forever.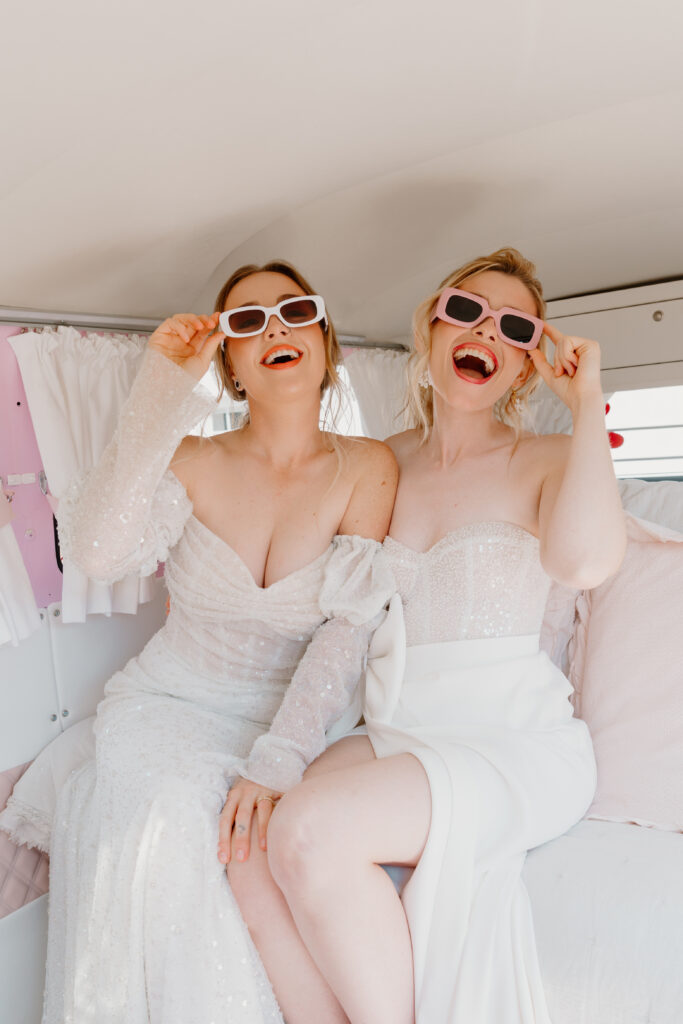 Talk to us to find out how we can help you find your summer punch inspiration.
We love working with bridal parties across Cornwall, Devon and the South West, helping you to create your perfect wedding.
If you're keen to bring 'summer punch' to your wedding, we have a wide network of suppliers and contacts who can turn your vision into reality. As your wedding planner, we can manage the complete logistics, saving you time and money. Our preferred suppliers often provide favourable rates, and we can handle everything for you, so rather than having a stressful experience, you can sit back and enjoy your engagement, knowing that your big day will go off without a hitch.
Although our head office is based in Devon, we work with couples across the UK. Whether you want to elope or have a formal sit-down wedding for hundreds of guests, we are here to help.
All you need to do is pick up the phone and give us a call!
Alternatively, if you need any inspiration, why not head over to our Instagram or Facebook page, where you can see some examples of summer punch weddings in action?