Top tips for hosting a sustainable street party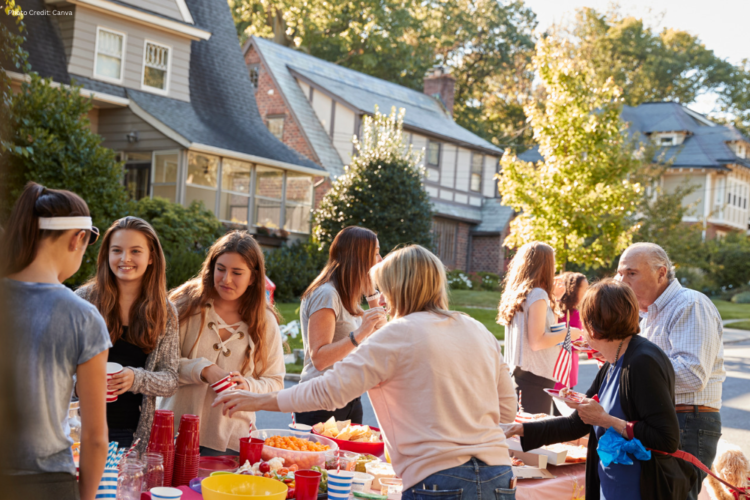 Top tips for hosting a sustainable street party
As the nation gears up to celebrate the coronation of His Majesty King Charles III and Her Majesty The Queen Consort this weekend, hundreds of thousands of people across the UK will participate in a celebratory street party.
Many of us may have taken the opportunity to join in a street party last year to celebrate the late Queen's Platinum Jubilee. But the accession of King Charles III to the throne offers an opportunity to celebrate differently. For decades, His Majesty has been known for his love of the environment and commitment to eco-friendly and sustainable practices.
So why not honour the new King with the same pledges at your street party?
Here are our suggestions for how you can host a sustainable street party.
Licencing restrictions
It goes without saying that any street party needs to be cleared by your local council, especially if you plan to restrict any roads or pavements. Failure to secure a licence could be costly, as councils can issue fines for highway obstructions.
Sustainable Invitations
Thankfully, the growth of local social media groups and community WhatsApp pages means issuing digital invitations or creating an online event, rather than paper invites is easier than ever. For example, you could create your invitation using a templated design through free software like Canva and upload your chosen image to your preferred Facebook group, Next Door app or WhatsApp chat.
If you are serious about hosting a sustainable party, there are many different ways that you can provide environmentally-friendly invitations. But why not use a street party as an excuse to get to know your neighbours through an old-fashioned door knock?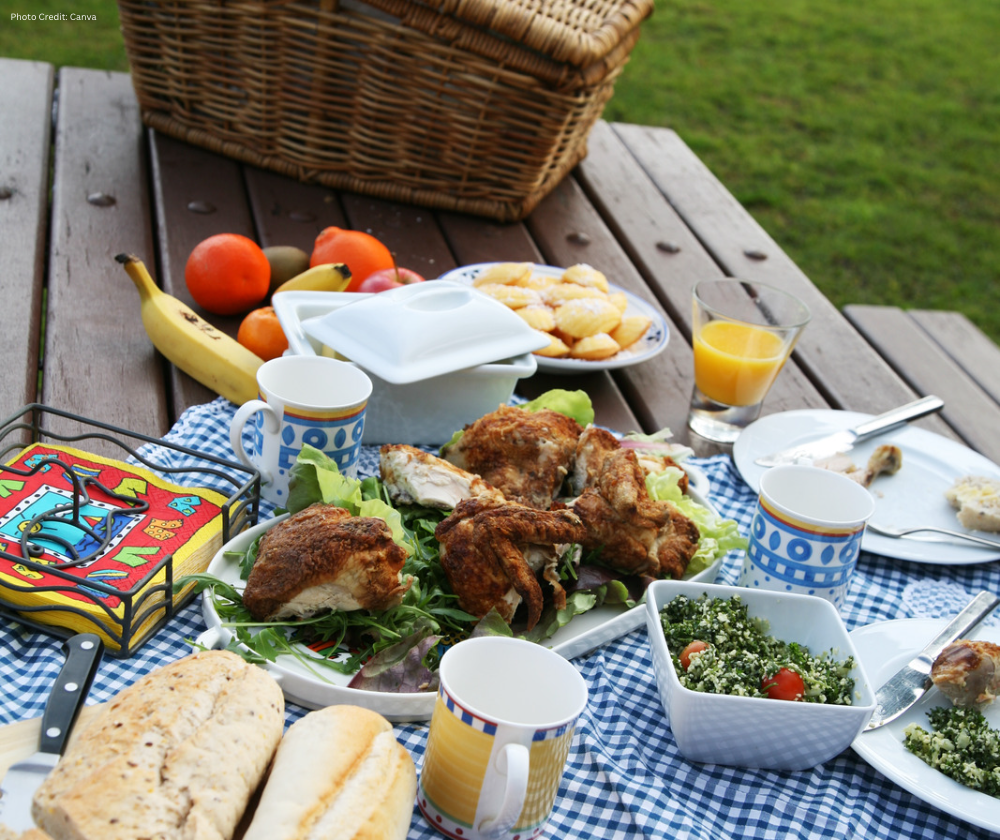 Make the most of environmentally-friendly menu choices
Catering is key to hosting a sustainable street party – you don't want to over-cater and end up with lots of leftover food. If you're hosting a buffet, we recommend catering for 80% of guests; that way, you're not over-catering if there are several no-shows or guests eating less than you might think.
Create a planned menu
This might sound complicated, but planning a menu for your street party is essential to ensure you are not duplicating food choices. For example, could you arrange for all of your guests to bring an item of food to share? For example, one person could be in charge of crisps, another in charge of sandwiches; another could provide the cake and so on.
Can you try to stick to local produce where possible? If you have any keen gardeners in your area who grow their own fruit and vegetables, you could ask them to share surplus produce with the party guests. After all, is there anything more delicious than home-grown strawberries or local tomatoes? Not only will it reduce your food miles to zero, but home-grown food is typically organic, with few pesticides or herbicides used.
It may take a little effort, but creating an organised list of who is bringing what will ensure enough variety of food and provide options for different dietary requirements.
Check out the new Coronation Quiche
If your street party is to celebrate the coronation, why not make the new Coronation Quiche which has been specially designed to celebrate His Majesty.
The choice of ingredients, including spinach, broad beans and tarragon are widely thought to have been chosen to celebrate the King's commitment to organic and sustainable farming.
However, the inclusion of lard within the recipe has raised eyebrows amongst many people. While lard is known for being an excellent addition to pastry recipes, its inclusion means that the quiche is unsuitable for vegetarians – although vegan alternatives are readily available. Some people believe that including lard is another nod to the King's sustainability choices, as lard is rendered pig fat and is a known by-product of the meat industry.
Avoid clingfilm where possible
To boost your environmental credentials, ask your guests to avoid using cling film or tin foil. These are single-use and difficult to recycle. Instead, could you suggest that any food is stored in reusable Tupperware boxes complete with lids? That way, there is minimal rubbish.
Reusable plates and cutlery
Similarly, while it may be tempting to opt for paper plates and plastic cutlery to save on washing up afterwards, these are terrible for the environment. In fact, the environmental impact is so hazardous that a range of polluting single-use plastics will be banned in England from October 2023.
"According to estimates, England uses 2.7 billion items of single-use cutlery — most of which are plastic — and 721 million single-use plates per year, but only 10% are recycled. If 2.7 billion pieces of cutlery were lined up, they would go round the world over eight and a half times (based on a 15cm piece of cutlery)."
Source: Gov.uk
Can you ask your guests to bring their own plates or picnicware? That way, each guest is only responsible for washing up their own items.
Plan to donate any leftovers to your local food bank
If you have a surplus of food left over, please ensure you have the name and number of your nearest foodbank or church. We appreciate that we are in a cost-of-living crisis, so reducing food wastage is essential for any sustainable street party.
A helpful tip is only to open new bags or packets of food as you need to replenish your supplies. For example, if you've brought several bags of crisps, why not only open one at a time? It will limit any food wastage and make it easier to donate any unopened leftovers to your local food bank.
Sustainable party decorations
It can be tempting to nip down to your nearest B&M or The Range to buy décor for your street party but think carefully about what you choose. Will it be something that you could reuse again in your back garden?
Sustainable street parties and environmentally-friendly party decorations are about reducing the amount of rubbish that is sent to landfill. Rather than buying new, why not ask your guests what they may have available in their sheds? You might be surprised by what people can offer, from reused bunting to paper chains or even children's artwork; there are many ways that you can sustainably decorate your party.
We would urge that you avoid using balloons. The plastic in the balloons is a well-known environmental hazard and dangerous to wildlife, and the earth is rapidly running out of Helium, a natural element.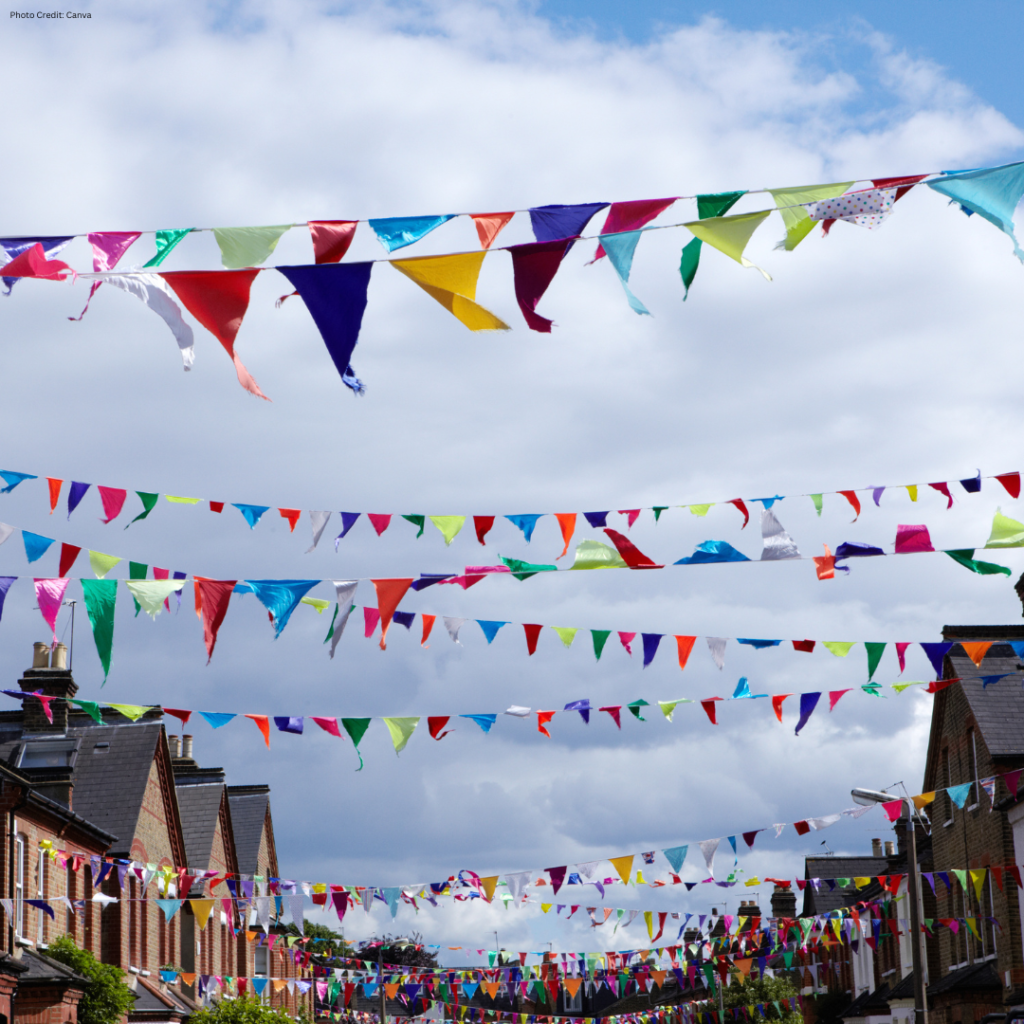 Can you use solar lighting?
As your party heads into the evening, can you ask your guests if they have any solar lighting that they can bring with them? Rather than buying new – it's worth asking your guests if they have anything they can share. You might be surprised by what your guests have available.
Similarly, candles in jars or votives can offer pretty lighting. Just check that your candles are made of beeswax, soy wax, or coconut wax to add to your eco-credentials.
Are you looking for more sustainable party ideas? Get in touch!
If you're looking to host a garden party this summer or want to celebrate your staff in an eco-friendly way, why not get in touch? We can offer practical and useful suggestions to lower your carbon footprint and have a wide network of environmentally friendly suppliers.
Our approach is to work with individuals and businesses across the UK to help you throw a sustainable summer party. Whether you need help to plan and host the entire party or support and guidance to get you started, we are here to help.
Please feel free to contact us directly to find out how we can support your sustainable street party, or follow us on Facebook or Instagram to get more inspiration.