Six Environmentally Friendly Wedding Hacks
Six Environmentally Friendly Wedding Hacks Only the Pros Know
Do you want your wedding to be as green as possible? You want your wedding day to be as special and unique to you and your partner as possible, but there's no getting around the fact that weddings can have a big impact on the environment. From using old cars that pollute a lot and single use decorations that are thrown away to wasting food and the ongoing issues with confetti, the wedding industry has a long way to go before it becomes more environmentally friendly.
But there has been a change in how wedding parties think about this.
As experienced wedding planners, we work with our clients to make suggestions that are good for the environment. Now more than ever, you can make small changes to your big day that will make a big difference for the planet.
Here are six environmentally friendly wedding hacks to help you add more eco-friendly touches to your green wedding.
How to find an environmentally friendly wedding venue
Your choice of wedding venue may be the biggest contributing factor towards your sustainability plans. Having an eco-friendly wedding isn't about having your big day take place in a field in the middle of nowhere. It's about choosing a venue that functions efficiently. Perhaps they've invested in solar panel technology or air source heat pumps to power their venue.
A simple way to choose a wedding venue that is good for the environment is to choose one that is close by, maybe even close enough that your guests can walk there.
When you visit venues, don't be afraid to ask the events team what they are doing to be more sustainable or what you can do to make your big day more environmentally friendly. We already know, for example, that people have stopped using confetti and are now using dried petals instead, at some venues this is a requirement. Could they give you any other tips that would help you plan an eco-friendly wedding?
Make your intentions clear with eco-friendly wedding invitations
How many of us remember to recycle our wedding invitations? Unfortunately, wedding invitations can't be recycled if they have foil, glitter, ribbons, or stamping on them, among other things.
Digital invitations are the obvious way to go for eco-friendly wedding invitations. E-invitations and wedding sites have been around for a long time. Design sites like Canva make it easy to personalise your own invitation, and sites like Wix or WithJoy make it easy to make a detailed wedding website with all the information.
But if you want a printed wedding invitation that is good for the environment, give careful thought to the paper stock. You should look for paper that has been certified by the FSC. This paper comes from forests that are well taken care of. You could also look for paper made from things other than trees, like hemp, straw, or even recycled cotton paper.
We've been happy to see how eco-friendly wedding invitations have changed over the past few years. The plantable wedding invitations are our favourites. These invitations are printed on seed paper that can be planted in your flower beds. The seed mix is built into the paper, so when the invitations are planted, they will grow into wildflowers or herbs.
Truly a lasting memento of your big day.
If you'd like to know more about plantable wedding invitations or suggestions of sustainable paper stock, why not send us an email via info@inspired-occasions.co.uk
We can discuss all of the available options, and make recommendations that look great, but also take care of our planet.
Have you thought about environmentally friendly wedding transport?
We totally get the love of vintage cars for wedding transport.
Nothing is as classy as a vintage 1940s Rolls Royce to take you to your wedding. But the big problem with vintage wedding cars is that they pollute a lot more than cars made today.
Added to the emissions is the number of guests also making their way individually to your venue.
There are simple fixes to this.
First, choosing newer cars will naturally boost your eco-friendly credentials. If you're living in a clean air zone, you may need to choose a newer car to avoid the toll charges.
Secondly, you could choose to walk or even bike to your wedding. If you've seen the STUNNING photos of Solange Knowles on her way to her wedding on a bike back in 2014, you'll know exactly how incredible she looked.
Some wedding parties also rent out coaches or set up carpooling so that guests can get to the venues. Not only does this help improve your environment, but it can also make the day more fun.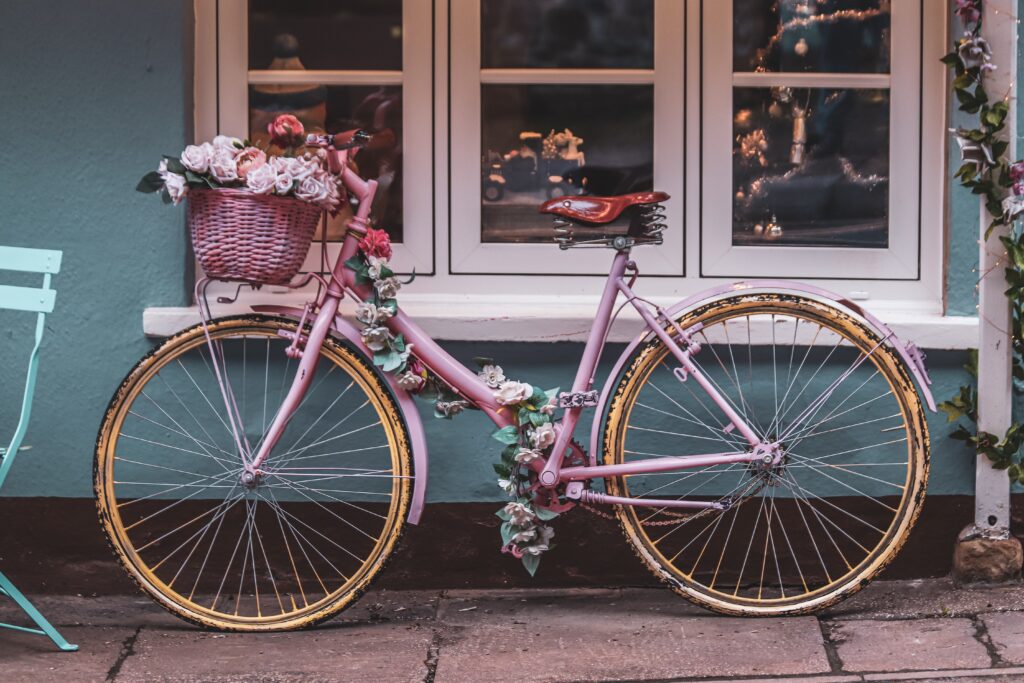 Don't forget to ask your venue or caterer for sustainable wedding menu choices
Our best tip for having an environmentally-friendly wedding meal is to focus on local and seasonal food. Why not try to get ingredients from nearby places when you can? Not only will eating what's in season save you money, but it will also taste much better.
Don't be afraid to ask to talk to the chefs about their commitments to sustainability when you talk to your wedding venue. You could ask if they work with local farms or suppliers and how they are trying to make their menus eco-friendlier. You could even ask for more vegetarian or vegan options. After all, most people know that plant-based diets can be better for the environment.
Another thing you should ask your wedding venue about is how they handle food waste. Do they know any ways to cut down on waste? Plated dinners waste a lot less food than buffet-style meals. If you'd rather have a buffet (especially in the evening), you could cut your catering to 80 percent to reduce the amount of food that goes to waste.
You could also arrange for the leftovers to be put in boxes and given to people in need.
Your venue may be able to tell you about any specific rules that need to be followed.
Last but not least, don't forget to think about your plates, glasses, and cutlery. Disposable tableware may seem like a good idea, especially for low-key, casual weddings, but it's bad for the environment. Also, make sure your bar, whether at the venue or an external supplier, are not using single-use plastics, especially at evening receptions when glasses might get knocked over. Try and work with them to find alternatives to be more environmentally friendly.
Eye catching wedding décor that supports the environment
We love the challenge of environmentally-friendly wedding décor. As wedding planners, we love to work closely with florists to create breathtaking arrangements that add to the décor, while also being eco-friendly.
Our tip for a green wedding is to use faux flowers or work with flowers that are in season and grown locally. If you are planning a June wedding, stick to flowers such as peonies, sweet peas, sunflowers or roses. Winter weddings can focus on jasmine, or narcissus.
We love the use of potted plants or herbs as centrepieces. They can be reused or shared with guests, perhaps doubling up as wedding favours. You could even choose centrepieces that match your drink selections – for example, a sprig of fresh rosemary or mint could really enhance the flavour of a cocktail.
If you are serious about hosting an environmentally-friendly wedding, we would recommend avoiding balloon arches. Not only because released balloons can be a severe environmental hazard, but the Earth is genuinely running out of helium.
For more inspiration on environmentally-friendly wedding décor, why not follow us on Instagram?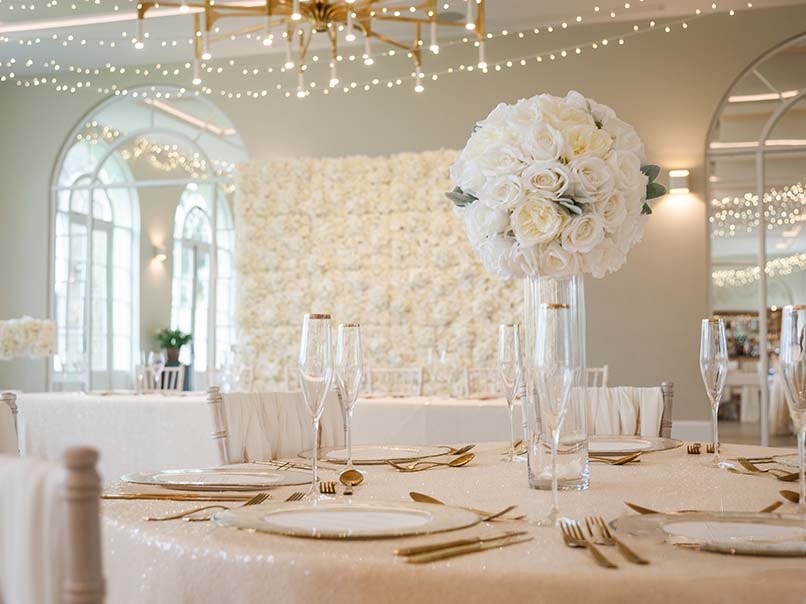 How green is your wedding outfit?
Most people think it's fine to rent suits for your groomsmen, but for some reason, hiring wedding or bridesmaids dresses hasn't really caught on.
The fast-fashion culture of today is wreaking havoc on our planet, so we often suggest looking for a beautiful wedding dress on sites like Vinted, eBay, and preloved. Oxfam has a great section for used wedding dresses and accessories.
We also recommend sites like StillWhite and BridalReloved which are also great places to look for vintage or used wedding dresses.
Talk to your wedding dress shop about where they get their dresses from if you want something unique. Buying an outfit made in the UK is much better for the environment than buying a dress made in China.
We always suggest that you choose a dress for your bridesmaids that they can actually wear more than once. Sustainable fashion means choosing designs that look good and can be worn in different ways.
Talk to Inspired Occasions about how we can plan your green wedding
If you are serious about hosting an environmentally-friendly wedding, please talk to us.
We have a network of ethical suppliers that we work with, and we can make suggestions for how to lower the carbon footprint of your big day.
Alternatively, why not follow us on Instagram or Facebook to get inspiration for green wedding tips?