Tips and tricks for an affordable wedding breakfast
Whether you have a luxury sit-down meal or an informal buffet, your wedding breakfast will likely be one of your biggest wedding expenses. Recent research from the Hitched National Wedding Survey has shown that the average catering spend for a UK wedding currently stands at £70 per head. And with 81 guests on the average couples guest list, your catering spend could equal £5,670!
It's no wonder that many couples might consider cutting their numbers to reduce their catering costs.
But as experienced wedding planners, we know a few handy tips and tricks that could reduce your catering costs while still allowing you to celebrate your union amongst all of your loved ones.
Create a Budget and Stick to It
The first step in planning an affordable wedding breakfast is to create a budget and stick to it.
This may seem like simple advice, but you need to think about how important your menu choices are to you. For example, if you're both big foodies, you shouldn't skimp on your catering options when you know you're looking for something special. Instead, you could cut back your wedding budget elsewhere.
While Hitched says that the average catering price is £70 per head, it's important to remember that that price considers a wide range of options. The average price will range from formal sit-down dinners costing £150+ per person to DIY buffets costing less than £20 per person.
Your overall wedding budget will naturally guide your decisions – but one thing we always remind our clients is that you should never start your married life in debt. We know there are always positive solutions to help you make the most of your low-cost wedding reception food ideas.
The cost of a wedding breakfast isn't just about the food
While your wedding breakfast cost per head may seem high, you need to remember that you're not just paying for the food itself.
If you're working with your venue's in-house catering team, the price per head will also include the costs of the chef and the catering staff, the wait staff, the tableware and crockery, the energy costs in the kitchen, and the potential menu tasting.
If you're bringing in an external caterer, you may also need to consider the extra items the team may need. For example, if you're getting married in an outdoor venue, you might have to pay for additional power outlets, portable fridges, trailer hire or bar hire.
When we talk to couples about their wedding breakfast costs, we like to break down each element so you can understand how prices are calculated. This is the best way to feel confident you are getting value for money.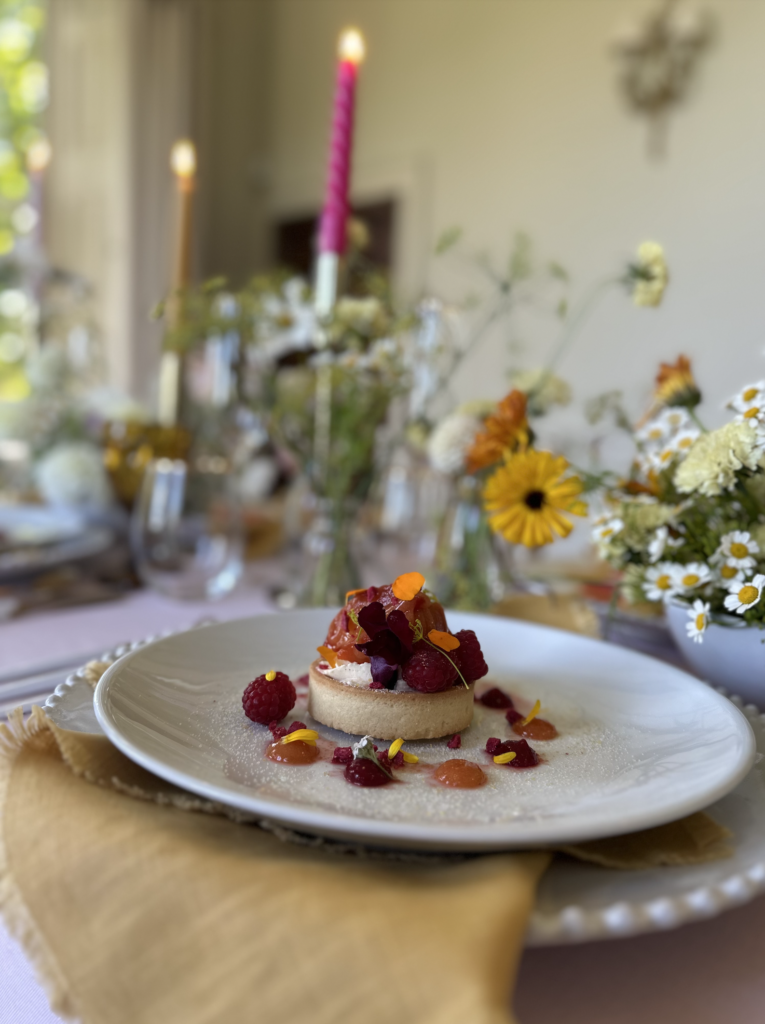 Creative ways to lower your wedding breakfast costs
So now we know how much a wedding breakfast costs, let's look at a few creative ways to offer inexpensive wedding reception food.
Offering canapes instead of a starter
As your guests are mingling, it's normal to offer canapes as they wait for the wedding breakfast to start.
But often, wedding canapes can ramp up your catering costs.
That's because wedding caterers will often recommend 3-5 canapes per person to keep hunger at bay while they wait for your wedding photos to take place. The cost of your canapes will vary depending on whether you choose to serve a one-bite or a two-bite canape choice at your post-ceremony drinks reception.
You could expect to spend anywhere between £3-£6 per head on canapes, so why not skip the starter and simply offer a two-course wedding breakfast instead? That way, you can satisfy your guests during your drinks reception while benefiting from a cheaper wedding breakfast.
Serve your wedding cake as a dessert
If you're spending hundreds of pounds on a wedding cake, you want to ensure that all the guests have a chance to taste it. Rather than dish it out during your evening reception, why not integrate your wedding cake into your wedding breakfast?
You could easily serve a piece of wedding cake as a dessert. You could ask your caterers to dress it up with fresh cream and berries or a scoop of ice cream in the summer or serve it with warm custard or crème anglaise in the colder months.
We love seeing this because it makes sure that everyone gets a chance to taste your wedding cake while also reducing food wastage.
You may need to speak to your wedding venue about the options; if you're bringing in an external baker to make your cake, they may charge you "cakeage" in a similar way to wine "corkage" charges.
Why not follow us on Instagram to find inspiration for wedding cake desserts?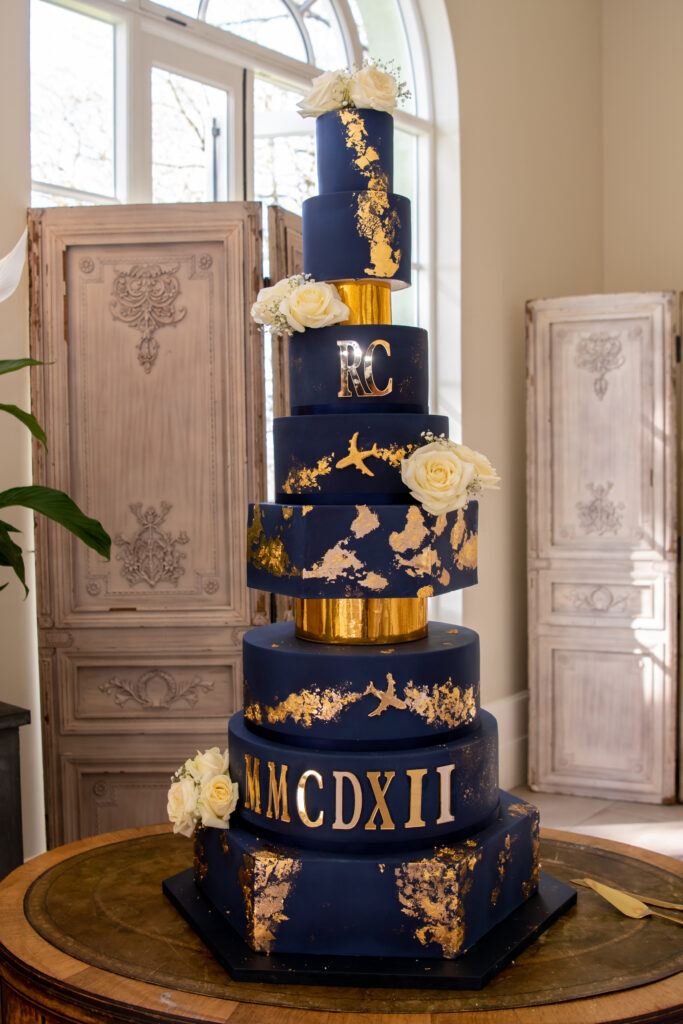 Opt for a Buffet or Family-Style Meal.
One of the best ways to save money on your wedding breakfast is to opt for a buffet or family-style meal instead of a plated dinner. Buffets allow guests to serve themselves, reducing the number of wait staff needed.
We've also attended weddings where Family-style meals were served. This is where large platters of food are placed on each table for guests to share and can also be a cost-effective option. If you're looking for a more relaxed and interactive dining experience, these options can help you to enjoy a cheaper wedding breakfast.
Talk to your wedding venue about their menu options
If you need to host an affordable wedding meal, talk to your venue about their options. The default option is often a sit-down dinner with a three-course meal because that is the usual request from wedding parties.
But your venue may have other options that might lower your wedding breakfast costs while still leaving your guests satisfied.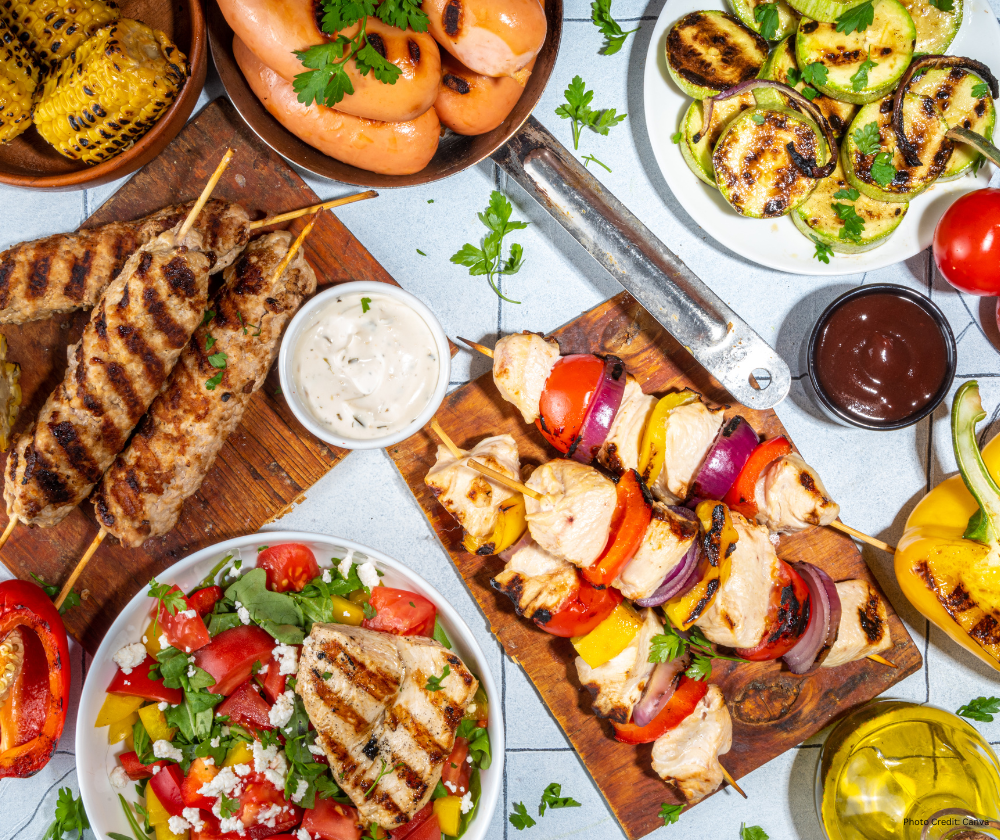 Could you have a BBQ or a hog roast?
BBQs and hog roasts remain hugely popular wedding breakfast meals because they are substantial, and guests can choose what they want to eat. They can be personalised to your tastes and guests' dietary requirements through side dishes such as potatoes, salads, or pasta options.
If you're keen to host an environmentally friendly wedding, choosing a BBQ or hog roast option could allow you to focus on locally grown produce, reducing your food miles and lowering your carbon footprint.
What about an afternoon tea wedding breakfast?
There's something quintessentially British about sitting down to an afternoon tea. It fits perfectly with shabby chic wedding themes and is a relaxed way for guests to enjoy sandwiches, savouries and pastries alongside a glass of champagne.
We love afternoon tea wedding breakfasts because each item can be personalised to your love story. You can have an array of flavours, colours and textures and choose options that match you as a couple. Honeymooning in Italy? Why not include a slice of lemon drizzle cake made with Sicilian lemons? Got engaged by the Eiffel Tower? You could add a French macaron to your afternoon tea wedding breakfast.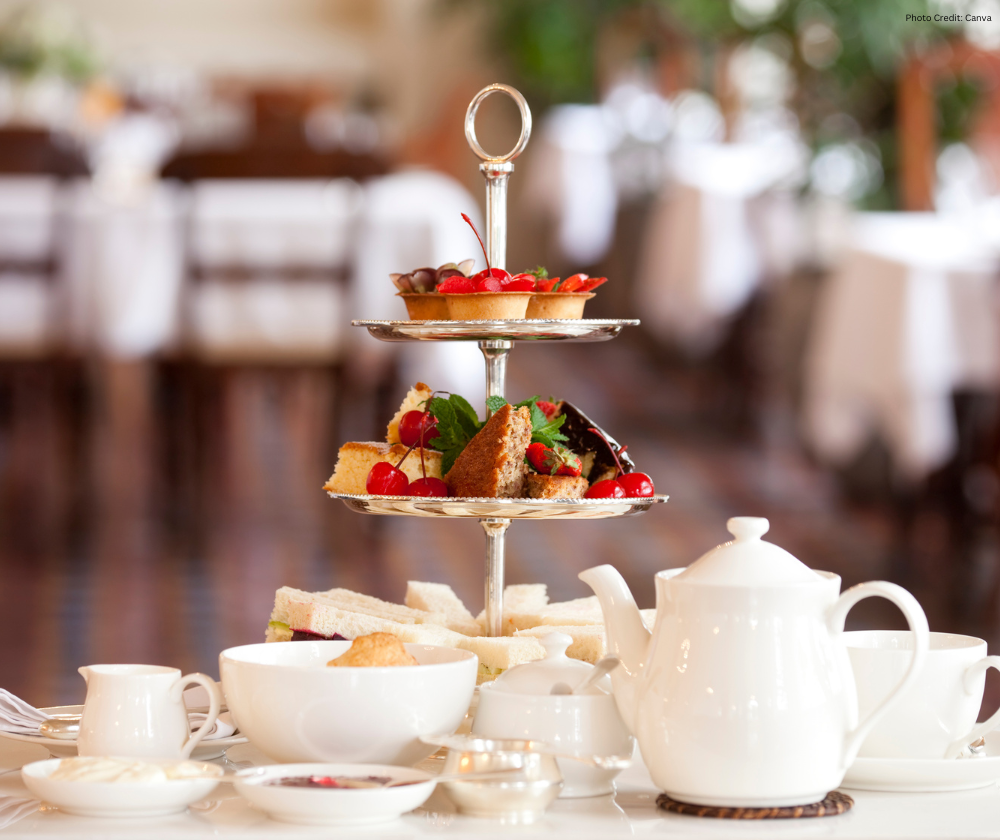 Grazing tables
Instagram and Pinterest are packed full of photos of wedding grazing tables. These are similar to a buffet table and allow your guests to select their own food choices. For those with dietary requirements, it can be an easier way of making sure that everyone is catered for.
Bring in food trucks
If you are planning a DIY wedding and hiring a village hall or community centre for your wedding venue, you will need to bring in external catering. Why not look at the costs of hiring a food truck for your wedding reception meal? Wood-fired pizza vans, burger or fish and chip vans can be cost-effective. Because these food trucks are used to travelling, they'll likely have everything they need to set themselves up outside your venue.
Inspired Occasions can help you with your wedding breakfast budget
Talk to us if you're worried about your wedding catering costs. As experienced wedding planners in Devon, we know how to maximise your budget so you can have a show stopping wedding breakfast.
We can offer suggestions on meal choices and use our network of suppliers to negotiate excellent prices that promise value for money.
We may be based in Devon, but our wedding planner services are available across the UK. We can help bridal parties from Cornwall to Cumbria.
Please get in touch to find out how we can help you plan your wedding at info@inspired-occasions.co.uk.
Alternatively, why not follow us on Instagram or Facebook to get inspiration for affordable wedding tips?