How to plan the perfect corporate Christmas party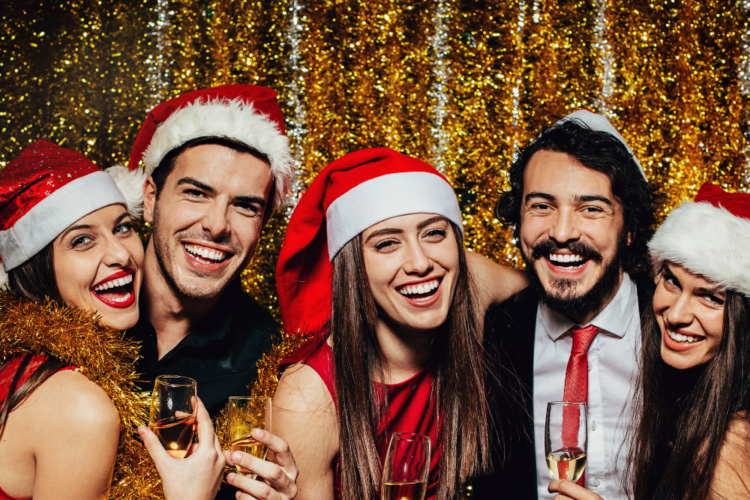 Planning a corporate Christmas party can be a great way to boost morale and create a festive atmosphere in the workplace. But to host the perfect bash, you need to be organised.
Here in the UK, there are two main ways of hosting a work Christmas party:
– Buy a table to a pre-arranged event, often joining in with other businesses.
– Create your own Christmas party, usually in a preferred venue such as a restaurant or bar.
Whether you're looking to impress your colleagues or simply want to plan a memorable event, our guide has all the tips and tricks you need to make your corporate Christmas party a success. From choosing a venue and creating a theme to organising entertainment and catering, we've got you covered.
Get ready to spread some holiday cheer and create lasting memories with your colleagues.
Set a Budget and Determine the Scope of the Party.
Before you start planning your office Christmas party, it's important to set a budget and determine the scope of the event. Knowing how much you are prepared to spend per head will give you a strong indication of what you can afford. Your price per head needs to include the overall costs of venue hire, entertainment, catering and decorations.
Think carefully about your staff. What do you think they would like? You may love to be the generous host and offer to pay for an all-inclusive bar tab, but it's not the responsible approach to take. Instead, you could offer each employee a drink token or two, perhaps with additional incentives for designated drivers.
Your company Christmas party is often the one time of year where different departments can get together and unwind, celebrating the successes of a hard year. It's an opportunity for your senior management teams to recognise their efforts.
Once you have a clear idea of your budget and the scope of the party, you can start making decisions about the venue, decorations, entertainment, and catering. Remember to keep track of your expenses and make adjustments as needed to stay within your budget.
With our event planning expertise, we can always offer suggestions for your office Christmas party that we know will remain in your budget.
Choose a Theme and Venue.
One of the first steps in planning the perfect corporate Christmas party is to choose a theme and venue.
Your party theme will set the tone for the event and help guide your decisions on decorations, entertainment, and even the dress code. Consider what type of atmosphere you want to create – do you want a formal, elegant affair or a more casual and relaxed gathering? Once you have a theme in mind, you can start looking for a venue that fits your vision.
Consider factors such as capacity, location, and amenities when choosing a venue.
– Is your chosen venue easy to access on public transport, or is there adequate parking on-site?
– Are there any accessibility issues you need to think about?
– If the nearest tube or bus station, or even car parking is a few minutes' walk away, how safe will your staff be as they travel to and from your party?
– Can it accommodate your desired number of guests and does it have the necessary facilities for your planned activities?
– If you are not flexible on dates, is it available on your chosen date?
If you're looking to create a bespoke corporate event, rather than purchasing tickets to a pre-arranged event, your choice of venue will need to be booked as early as possible. Often, restaurants and bars are fully booked by the early summer – especially for weekend events.
You could choose to look beyond the expected. For example, why not hire a private trip along a local river on a sailing barge, or hire the conference facilities at your nearest sports team?
Of course, if budget is more of a constraint, why not host a work Christmas party within your office? All you need is a private meeting room and a few decorations and you can transform your working area into something Santa would be proud of.
For further inspiration on unique Christmas party venues, why not follow our Instagram account?
Plan the Menu and Drinks.
The menu and drinks are an important aspect of any office Christmas party.
Often, you will only have limited influence on your menu, especially if you're hosting your party at a local venue because they will have devised a fixed price set menu that works with their chef and wider catering teams.
But if you do have the opportunity to get involved in the menu planning, make sure that you consider the preferences and dietary restrictions of your guests when planning the menu. You need to offer a variety of options, including vegetarian and gluten-free choices, to accommodate everyone. You will also need to think further about other dietary requirements such as lactose intolerances, religious food restrictions, and known allergens.
Working with external catering teams
If you're hiring an external venue that doesn't have its own in-house kitchen, you may need to hire an external catering service to ensure that the food is delicious and professionally prepared.
– During the booking process, there are a few questions you should ask
– What equipment do they have or will they need?
– What electrical equipment is required (fridges, cookers, microwaves)?
– Will the crockery, cutlery and linens be included in the price?
– Will they be there to serve or will you need to hire additional waiting staff?
– What are their clean-up processes?
– Do they have confirmed food allergen procedures in place to avoid cross-contamination?
Getting your drinks orders sorted
When it comes to drinks, consider offering a selection of alcoholic and non-alcoholic beverages. You want to have a well-stocked bar with a variety of spirits, wines, and beers, as well as a selection of soft drinks and mocktails for those who don't drink alcohol.
Don't forget to include water and other non-alcoholic options to keep your guests hydrated throughout the event.
You could even choose to create a series of festive cocktails, each with its own name based around your workplace.
We can recommend a number of caterers and external bar teams that can cater your corporate Christmas party. Early booking will be essential to secure your first-choice date.
If you are struggling to find someone, please get in touch. We have a wide range of contacts we can call on to ensure that your office Christmas party goes off without a hitch.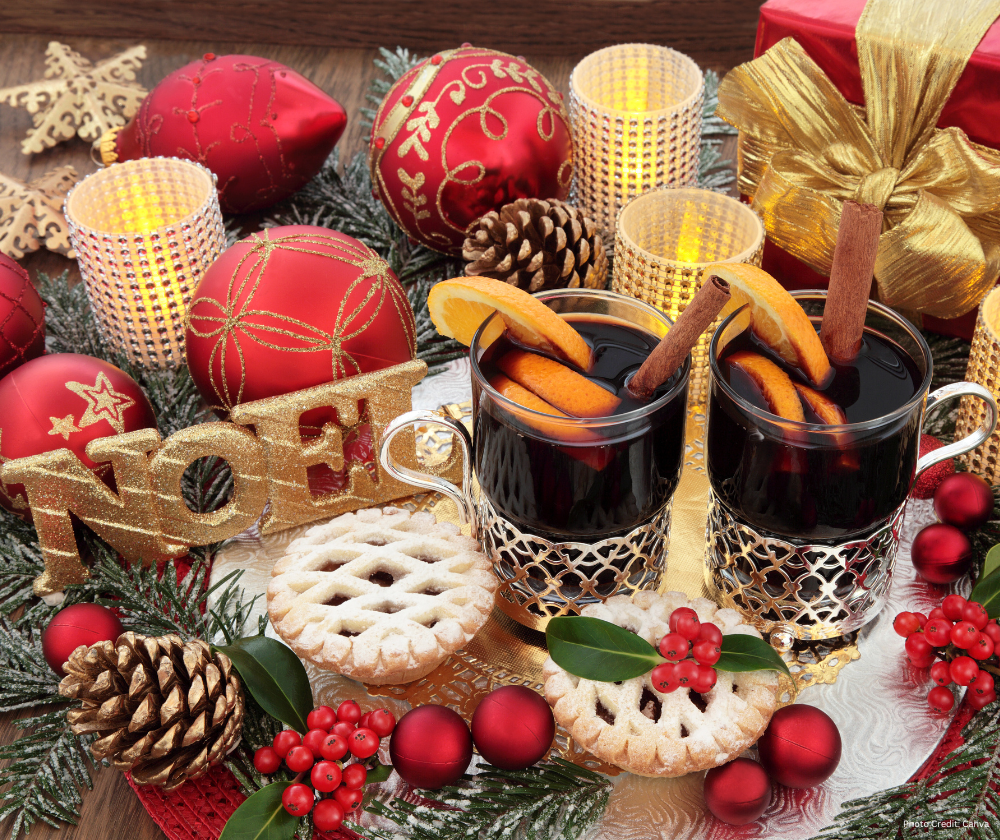 Organise Entertainment and Activities.
The venue looks great, the food is delicious and the drinks are flowing.
But to be a successful work Christmas party, you need the right entertainment to get the party flowing.
If you're choosing to book a pre-arranged package, you're in luck. The party organisers will have organised the evenings' entertainment for you. But if you've chosen to do it alone, the duty falls to you to secure the perfect festive activities.
These options are always hugely popular amongst corporate events.
– Consider hiring a DJ or live band to provide music and create a festive atmosphere.
– You can also organise fun games and activities to keep your guests engaged and entertained. Some popular options include a photo booth with props, a Christmas-themed trivia game, or a gift exchange.
– If your budget allows, you could even hire professional entertainers such as magicians or comedians to add an extra element of excitement to the event. You could even hire a celebrity singer or comedian to do a set. You might be surprised to learn that even a small budget can get a well-known face to compere your proceedings.
Of course, you must remember to consider the preferences and interests of your colleagues when planning the entertainment and activities to ensure that everyone has a great time.
Make the most of your networks to bring in the entertainment
If you're looking for something a little different for your work corporate party, why not switch things up a bit?
If you're a small team, then why not choose something else for your team bonding activities? Workshops like wreath making, cocktail making, cake decorating or festive cooking lessons often go down a storm with smaller businesses. Another added value of team bonding activities is that they can take place during the day – they don't have to be outside of working hours. If you know that your staff have commitments outside of work (perhaps hobbies, caring responsibilities or a family), choosing to host your Christmas party during the working hours will show you to be a kind and caring employer.
You could use your network of contacts to work with local businesses and help celebrate your local communities.
If you want any recommendations for low-key work Christmas party ideas please contact us.
Send Invitations and Manage RSVPs.
Once you have finalised the details of your corporate Christmas party, it's time to send out invitations and manage RSVPs.
Start by creating a guest list and gathering the necessary contact information for each attendee. You can then choose to send out traditional paper invitations or opt for a more modern approach by sending digital invitations via email or through an event management platform.
It makes sense for your invitations to be handled by your HR team, who will already have their own HRIS in place to handle internal communications. It will protect any sensitive data and allow you to manage any confidential requests, comments or feedback from your employees with minimal fuss.
When sending out the invitations, be sure to include all the important details such as the date, time, and location of the party. You can also include any special instructions or dress code requirement or whether staff are permitted to bring along a plus one.
You could choose to work with your marketing teams to make the invitations visually appealing and festive to get your colleagues excited about the event.
To manage RSVPs, provide a clear and convenient way for guests to respond. You can include an RSVP card with a pre-addressed and stamped envelope for paper invitations or include a link to an online RSVP form for digital invitations. Keep track of the responses and don't forget to follow up with any guests who have not yet responded.
Managing RSVPs will not only help you plan for the number of attendees, but it will also allow you to make any necessary arrangements for food, drinks, and seating. By staying organised and proactive in managing RSVPs, you can ensure that your work Christmas party is a success and that all your colleagues have a wonderful time.
Talk to us about your office Christmas Party 2023
Now is the perfect time to kickstart your planning for your work Christmas party 2023. It's better to get started now, rather than leaving it until October or November when you'll likely be disappointed with the choices available.
Here at Inspired Occasions, we know the perfect venues near you for a work Christmas party. Our head office is based in Devon, so we are well equipped with all of the local venues and suppliers across the south west. We also work closely with businesses across the UK, helping firms to organise events at home or even abroad. For our experienced team, nothing is too much effort.
We can help you with all the planning, from budgeting and venue visits, through to the décor, catering and entertainment.
We can work individually or be an additional resource to help your in-house team get started on their planning.
Thanks to our contacts, we can often secure favourable rates, making sure that you get the most value for money.
To find out how we can help your office Christmas party 2023 go off with a bang, please pick up the phone and give us a call!
Alternatively, why not follow us on Instagram or Facebook to get inspiration for affordable wedding tips?