Fun and festive Christmas parties held in your home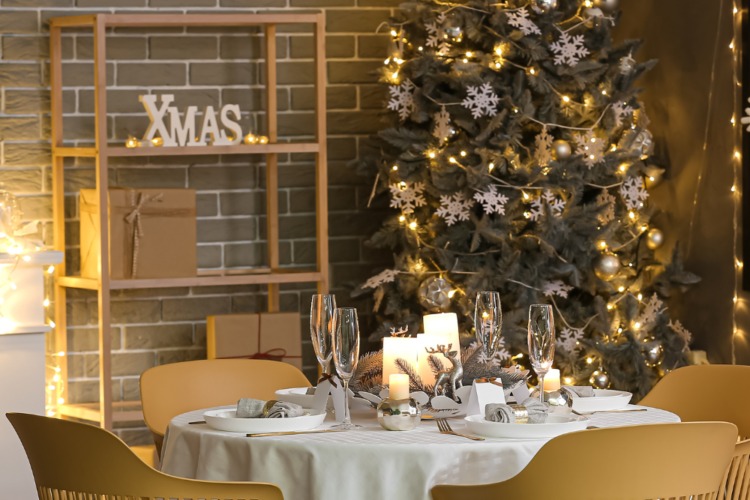 Are you looking to add some excitement to your home Christmas party? Look no further!
Hosting a Christmas party at home is becoming increasingly popular as Brits turn to Pinterest and TikTok for inspiration on how to celebrate the festive season. Whether you're planning a Christmas party for a few friends, or a big celebratory bash, there are plenty of ways to get the party started.
To help you with your planning, we have compiled a list of fun and festive activities that will make your home Christmas party unforgettable. We've got some great ideas for how you can get your home party-ready, as well as suggestions for festive-themed games and DIY crafts.
With our help, there's something here for everyone to enjoy.
With these entertaining ideas, prepare to spread some Christmas cheer and create lasting memories for your loved ones.
Get your house Santa-ready with external Christmas party decorators
Did you know that you can hire external events and party planning teams who can decorate your homes in such a way that even the Kardashians would be jealous?
Hiring an external Christmas party decorating team doesn't have to be hugely expensive. There are many local firms available who specialise in creating the most of your space, helping you to transform your living room into a grotto that even Santa would be jealous of.
The benefit of working with an external party decorating team is having someone come in and completely transform your home. You can relax and spend time with your guests rather than stressing about getting ready for your home Christmas party. Your decorating team will work with you to establish what type of party you want to host. It will identify how to maximise your space, both inside and outside.
For example, with an external team, the extravagant Christmas door decorations and doorway garlands that are all the rage on Pinterest and by celebrities on Instagram can easily become a reality.
With a simple brief and budget provided to your chosen external Christmas decorating team you can transform your doorway or hallway into a festive paradise – something that will capture the attention of any passersby and excite your guests as they arrive.
A Christmas doorway arch is a great way to show your commitment to your theme. Whether you want to choose a specific colour scheme, or perhaps a wider theme like The Nutcracker, working with an external specialist can transform your home ready for your Christmas party. And as an added bonus, your decorations and theming can remain up throughout the twelve days of Christmas!
Please talk to us if you want recommendations for a great Christmas décor team. We have a contact book of reputable suppliers and can match you to a team that suits your budget.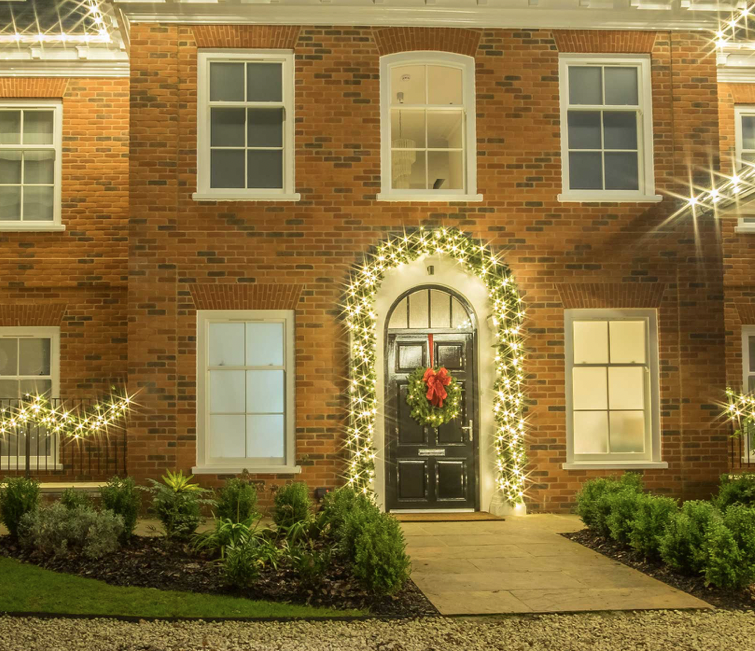 Christmas drinks and nibbles
What have you got planned for your catering options? Depending on the guest list, style and format of your Christmas party at home, we can recommend external caterers or bar staff. You could choose between festive nibbles or a full-blown Christmas dinner.
The best part of a home Christmas party is that you can create amazing grazing tables packed full of mince pies, candy canes, popcorn and sausage rolls, and an array of cheese boards and charcuterie platters. What's more, if you're on a budget, many of these nibbles can be easily bought from the supermarket or prepared in advance. If you're not sure which supermarket is the best place to visit, we're sure the TV adverts from October onwards will give you a clue!
When it comes to drink options, we love to see the creativity of Christmas cocktails or mocktails. You could create your own personalised cocktails – with alcoholic and non-alcoholic options. If you're not sure how to create your own drinks blends, why not stick with tried-and-tested drink mixes, and make your own drinks labels using free software such as Canva?
Christmas workshops
Do you want to add a wow factor to your Christmas party or some Christmas activities for adults? Why not invite a local business to come in and provide a demonstration? Wreath-making workshops with florists are always popular, as are Christmas cake-decorating seminars or Xmas-cracker demonstrations. By choosing a quick and easy workshop, you can give a real focus to your Christmas party and provide your guests with something to remember and take away.
When working with clients to arrange Christmas parties at home, we love working with small businesses and local suppliers. Please talk to us if you'd like any inspiration or recommendations for Christmas workshops. 

Live entertainment
If you're keen to bring live entertainment to your Christmas party, many options are available. From live music to magicians, caricaturists to comedians and even fire performers, there really are options for everyone and every budget.
But we think staying more traditional for a Christmas party is always a wise option. We love to see Christmas parties with dedicated choirs or Christmas carollers. Bringing in singers can add a real sense of surprise to any Christmas party at home, and we promise no one can resist the allure of singing along to Silent Night or We Wish You a Merry Christmas.
DIY Christmas party activities for adults
Of course, we understand that not everyone has the budget to bring in external entertainers or decorators. That's why we've also pulled together a few suggestions for DIY Christmas parties which are perfect for those looking for something a little more low-key or more affordable. 
Christmas Movie Trivia Game
Christmas wouldn't be Christmas without the festive flicks. In recent years, Xmas movies have become seemingly controversial – huge debates are had every year over whether Die Hard is a Christmas film or not (in our view, it absolutely is!). And the ongoing popularity of Hallmark Christmas films shows that sentimentality remains popular during the festive season.
If you know your Kevin McCallister's from your Scrooges or your George Bailey's from your Clark Griswold's, why not create a Christmas movie trivia game? You can test your guests' knowledge of classic Christmas films and see who can answer the most questions correctly. Create a list of trivia questions based on popular Christmas movies like "Home Alone," "Love Actually," "Elf," and "It's a Wonderful Life." Divide your guests into teams and award points for each correct answer. This game will bring laughter and friendly competition to your home Christmas party.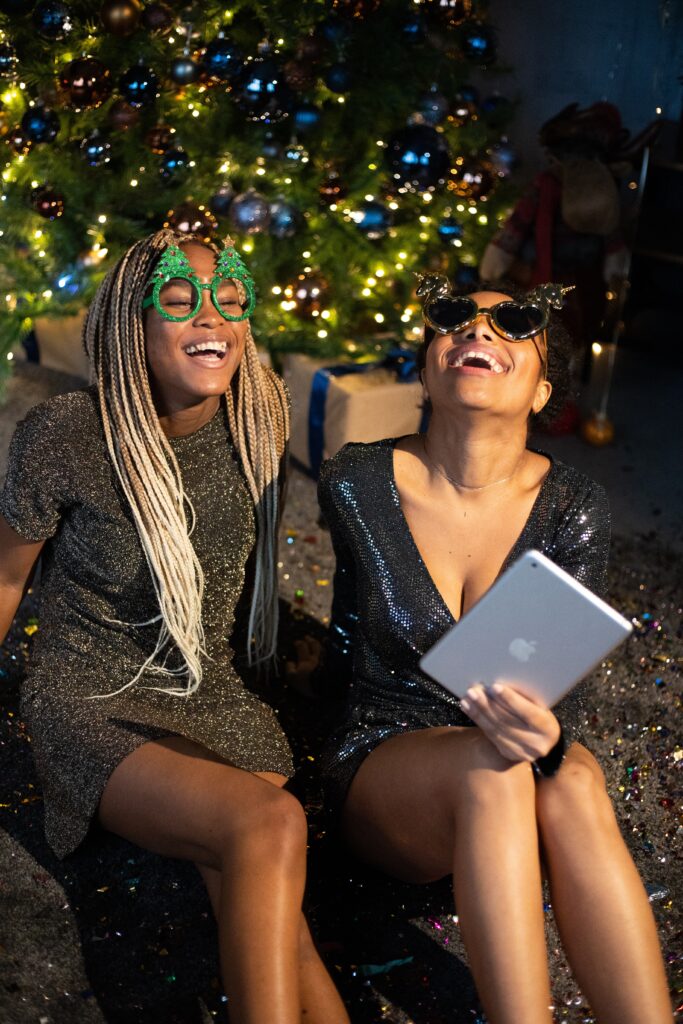 DIY Ornament Making Station
We love homemade Christmas ornaments; there's something satisfying about unpacking the box of decorations each year and being flooded with memories of Christmas past.
If you're looking for Christmas party activities for adults or children, why not add a DIY ornament-making station for your Christmas party? You only need a little space, perhaps a kitchen table, or even repurposing an unused decorating table to create a special place where your guests can get creative.
Adults will love this as much as children will. All you need to do is provide plain ornaments, paint, glitter, stickers, and other craft supplies for your guests to decorate their own unique decorations. You can also offer stencils or templates for those who want a little guidance. This activity is not only fun, but it also allows your guests to take home a personalised keepsake from the party.
Top tip! Don't forget to have a designated drying area for the ornaments before your guests take them home.
Christmas Karaoke
What's your favourite Christmas song? Do you find yourself belting out Mariah at the start of December, or do you like to try and play a game of Whamaggedon? (If you haven't heard, it's a game where you try to avoid listening to Last Christmas until midnight on Christmas Eve).
To add a party feel to your celebrations, why not get your guests in the holiday spirit with a Christmas karaoke session? You could set up a karaoke machine or use a karaoke app on a tablet or smartphone. Create a playlist of popular Christmas songs and let your party guests take turns singing their favourite tunes. You can even provide props like Santa hats or reindeer antlers to make it more festive.
This activity will surely bring laughter and joy (or maybe a headache!) to your Christmas dinner party.
To get you started, why not check out our very own Christmas playlist?
It's never too early to start planning your Christmas party at home
We always recommend planning early for your home Christmas parties. If you want to bring in external suppliers such as caterers, bar staff or introduce Christmas workshops, then you need to get booked in early.
We know that thinking about Christmas in the summer may seem odd, especially when the sun is shining outside. But that's where we can come in.
Instead of you stressing over your Christmas party ideas by yourself, we can offer a sounding board of advice and guidance. With our network of local contacts, we can bring in the right team to deliver the exact party you're looking for. And because of our relationships with suppliers, we can negotiate better rates, making your home Christmas party more affordable.
We can take care of the whole event from start to finish, so all you need to think about is who you plan to invite. We can take care of the rest.
Why not book a call for an initial consultation on making the most of your Christmas party house?
Alternatively, you can follow us on Instagram or Facebook for more inspiration.