Everything you need to know about seating arrangements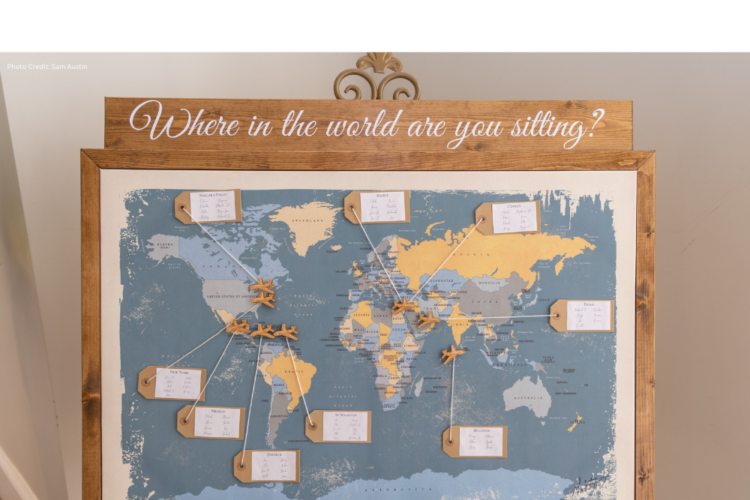 Everything you need to know about seating arrangements
Is your table plan stressing you out? Whether planning a corporate event, a family celebration, or a wedding, figuring out where everyone should sit can quickly become a logistical headache.
There are many different seating plans, from theatre-style to banquet, cabaret to classroom. But what is the difference between each, and when should you use them?
If you search online, there are many different seating arrangement rules, which can differ depending on the type of event that you are hosting. For example, a formal business event will need vastly different seating plans to a relaxed and informal family celebration. How you choose your seating layout can make the most of your space, create new relationships between your guests, and impact the type of furniture you might need or where to position any technical equipment.
We understand that it can be confusing, so we are sharing some useful hints and tricks to give you everything you need to know about seating arrangements.
Why are seating arrangements important?
How you decide your seating arrangements can make a big difference to the overall success of your event, whether it's a personal event or a work-related activity. For example, your seating plan choice can impact how many guests you can invite, where to place your audio requirements, or how to sit families together.
As experienced event and wedding planners, we've worked on various events with every seating plan possible. As a result, we know the pros and cons of each, and we can discuss your requirements to establish which seating plan is right for you.
Helping you make the most of business events
Seating plans at business events need to be carefully thought through. For example, if you're hosting a training seminar, do you need your employees to be able to work together in small groups? Perhaps you need space for a speaker to walk through the audience, or you want to create an environment for individuals to network.
Your choice of seating can significantly impact what you can achieve. Choosing the right seating arrangements and room setup will help your event to run smoothly and achieve your outcomes.
Maximising space at a wedding
A wedding seating arrangement will impact how many guests you can invite. Most venues may offer banquet seating on round tables, and you may need to decide how many guests to sit at each table. Your wedding seating plan will naturally focus on the number of guests. Still, you may also need to decide whether to include a traditional top table or make the most of a sweetheart top table for the happy couple. You could even choose for your top table to be located on a round table situated within your guests.
Depending on your meal choice, you could decide that long trestle tables in a U-shape configuration make more sense. For example, if you are making the most of a buffet, sharing platter or grazing tables, alternating your seating arrangements could be beneficial.
What is the etiquette for seating arrangements?
Etiquette expert Debrett's describes seating plans as a "finely-tuned piece of social engineering."
In many ways, this is true. But it's also important not to get too hung up on formal etiquette, especially If you are trying to host a relaxed event.
At a formal wedding, seating plan etiquette states that an oblong top table should face the rest of your guests. That way, it is easy for your guests to have a good view of anyone making public speeches. However, it should also be noted that an oblong top table makes it tricky to socialise during the meal.
For business events, seating plan etiquette will depend entirely on what type of event you are hosting and how many guests are attending. Business seating plan etiquette is based upon the seniority of professional status. The host should be seated at the head of the table, with guests seated based on their professional ranking.
If you use cabaret or banquet seating, a key business member should host each table. That way, your official representatives are interspersed amongst your guests.
How many types of seating arrangements are there?
Eight different types of seating arrangements are available for events. The type of event you host (business or personal) will naturally dictate the type of seating plan that you choose.
Banquet
For banquet seating, round tables are spread out evenly around the room. It's often used for weddings, networking, and award celebrations because it naturally enables effective networking and good socialising opportunities.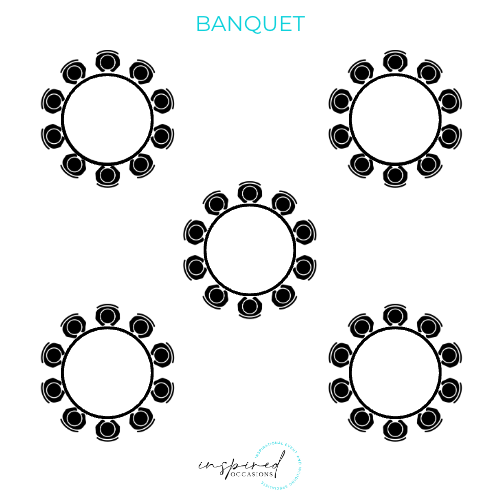 Boardroom
In boardrooms and conferences, people sit facing each other at a long, rectangular table. It's mainly used for smaller business events where individuals must listen to one person (the event host) and facilitate easy discussion. However, the nature of boardroom-style seating means that it's not suitable for long presentations. Instead, it's better suited to shorter brainstorming opportunities.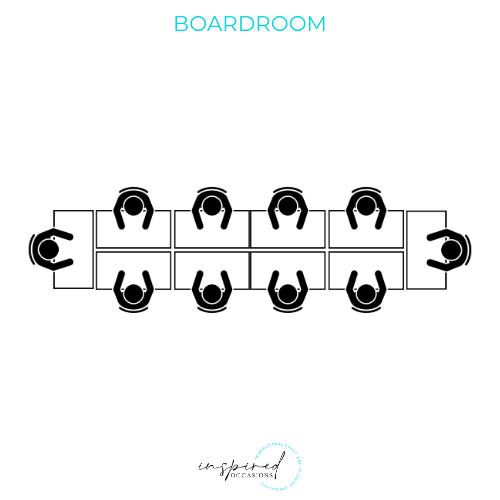 Cabaret
This is similar to banquet seating, as it features round tables but leaves one side of the table (typically facing the speaker) blank. Cabaret seating arrangements allow guests to focus on a keynote speaker while still networking and interacting.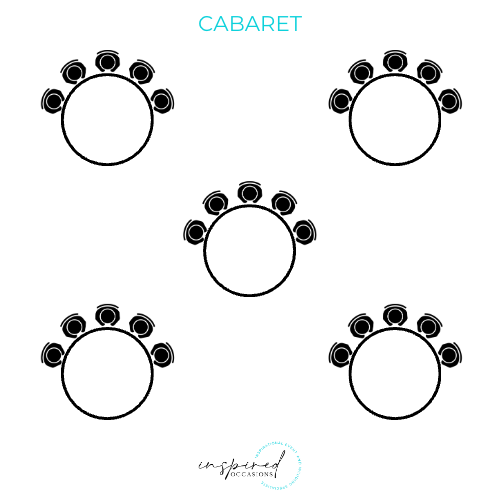 Chevron
The rows of seats in a chevron style are short and angled, with a walkway down the middle. Chevron seating is effective for creating a clear focal point in the room. The attention is naturally directed towards a speaker. It's effective for small groups of people who need to be able to work together in a formal environment.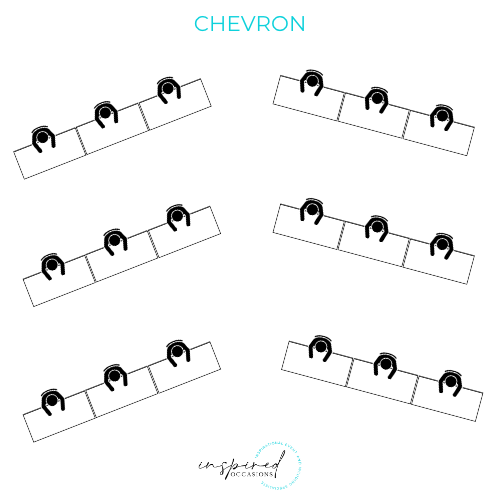 Classroom
As you may expect, classroom seating offers rows of tables with a walkway in the middle. Unlike Chevron seating plans, a classroom-style setup features straight rows. Typically, you would have 3-4 people at each table. This allows for a natural learning style and encourages individuals to work together while paying close attention to the key speaker. However, with classroom-style seating, you do need to think about spacing. If tables are too close together, a room can suddenly feel claustrophobic.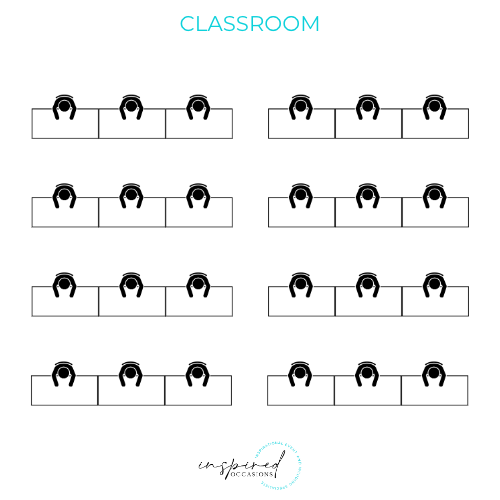 Square
Square seating is a good middle ground between banquet seating and U-shaped eating plans. In general, everyone can see each other comfortably, talk and work together effectively. It offers natural solutions to those who need to work on individual laptops, as trailing wires can be on the inside of the tables, reducing trip hazards. This seating arrangement is typically used for groups that would be too close together at a normal banquet table. It has the added bonus of giving people at the ends of the table more room to move around.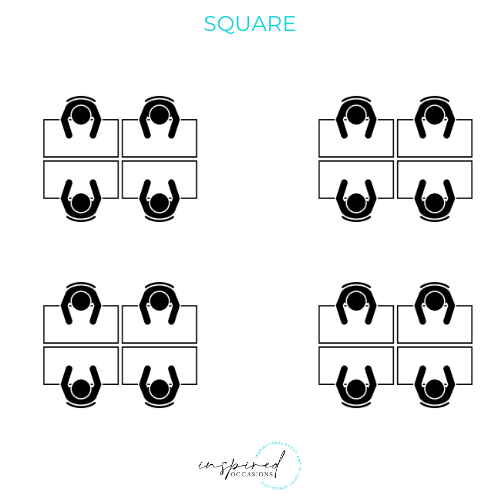 Theatre style
Seating in a theatre style is done with built-in seats or rows of chairs facing a single point of interest, usually a professional stage or a podium. This is a natural seating arrangement style for a conference or other business event with a keynote presentation.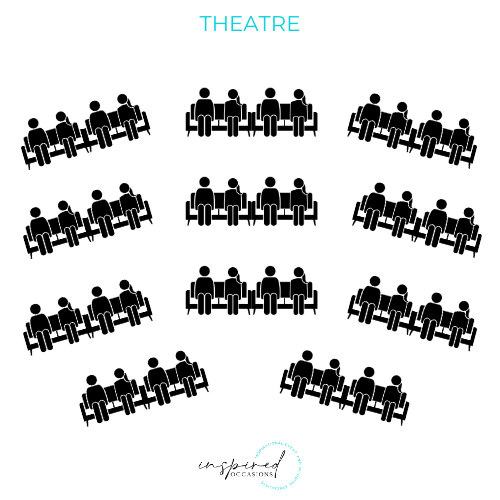 U-Shape
The tables in U-shaped are arranged in the shape of a rectangle with one open end. It is also sometimes known as horseshoe-shaped seating. The benefit of a U-shaped table layout is that it allows people to walk around in the middle of the room, giving closer access to your guests. It also allows for collaborative working, although it's not suitable for large groups of people.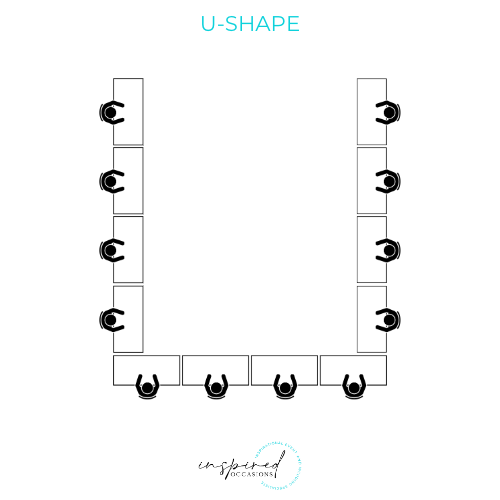 What's the best type of seating arrangement for weddings?
The perfect wedding seating arrangements will depend on the size of your venue and the number of guests. Typically, you want enough room between tables for guests to move around while retaining a cosy atmosphere. Your venue wedding coordinator will need to make sure that there is enough room for staff to move around, making it easier to serve food or drinks to your guests.
Your chosen wedding venue will be experienced in knowing how to maximise the space in the room.
What's the best type of seating arrangement for corporate events?
Again, this depends on the type of event that you are hosting. If it's a conference, theatre style is often the best option to maximise the number of attendees. If practical learning or networking is needed, you might prefer a cabaret or banqueting seating plan. If it's a training seminar or brainstorming session in small groups of less than ten, a boardroom style may be better suited.
If you're unsure what type of seating arrangement you should choose, why not send us a message? We can help you to identify the right seating plan based on your venue size, number of guests and type of event.
Inspired Occasions can help you to make the most of your seating plans
For years, we've been working with clients to make the most of their business or personal events. Our expertise will help you to identify what type of seating arrangement is best for your event. We can talk through all of the aspects, from the number of attendees to where you should place your audio equipment. From there, we can help with the aesthetics of your room, from place settings and table décor to lighting, favours and music choices.
If you need help to make the most of your next corporate event, or you require support as you plan your wedding, please contact us via info@inspired-occasions.co.uk