Creating a B2B event on a budget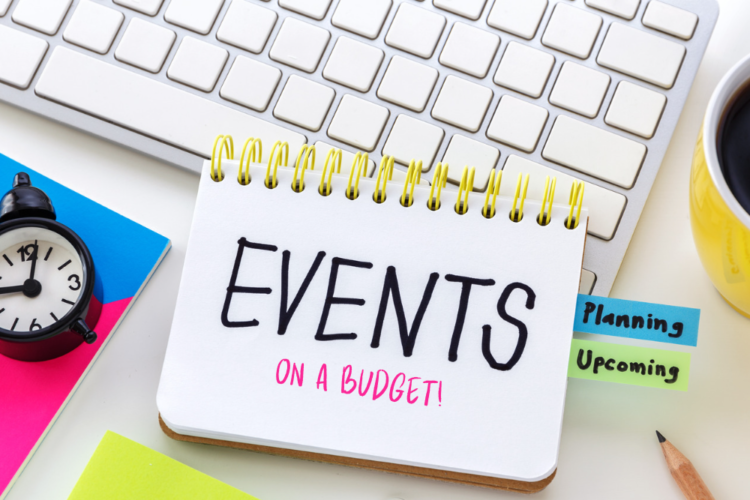 Creating a B2B event on a budget
This year, we anticipate that B2B events will differ from anything we've seen before. As the cost-of-living crisis continues to hit us hard and the economy remains on the brink of recession, many businesses will naturally scale back their corporate events and conferences.
You may be concerned about your event and marketing budget, and reducing any event spend is a natural way to make the most of your money. But how do you plan to win new business or raise your profile amongst target audiences without your events?
Corporate events and conferences forever juggle that balance between spending money and making money.
We get it.
Budgets are tighter than ever, but how do you plan to meet new people and make new sales without your external events?
Instead of scaling back on your corporate events entirely, we think you should reinvest your 2023 events budget differently.
Here are some of our suggestions for how to host an affordable B2B event.
Use data analytics to inform your decision-making
These days, we can use data for almost everything. This is great when deciding on events because you can accurately predict whether a specific event will make money.
Before planning your summer 2023 events, make sure you are clear on what events you want to attend and why. Then, look back at previous years to see how many new leads or sales were generated. What was the cost ratio between attending an event and generating profit?
If you want to host your own corporate event, use this same strategic thinking in your planning stages. For example, can you use data to look at similar events? Doing an advanced search to see what type of events are most successful (conferences vs round table discussions, webinars vs in-person events) will give you confidence that you are using your budget most appropriately.
Is technology the best way forward to host a conference on a budget?
You may think hosting a webinar is an affordable way to host a corporate event. But how do you decide which webinar software is best to use? Video conferencing kits like Zoom and Teams offer quick and easy, off-the-shelf solutions, but are they the most appropriate options for what you need?
Using technology to save money needs to be carefully considered. When hosting an online event, your research needs to look beyond budget. It needs to be focusing on usability and accessibility.
- How flexible is your software?
- Does it allow you to offer virtual break-out sessions?
- Are there opportunities for delegates to chat with one another or network together?
- Can they ask questions during any presentations?
- Will any event sponsors have an online presence?
- Will an online event have high drop-out rates?
- Can they receive a copy of the presentation post-event?
- Can you monitor how many times a presentation is downloaded post-event?
When we work with clients to host low-cost corporate events, we will discuss the implications of hosting online-only events. Live streaming is great, but there are limitations – especially if you pick the wrong software.
In contrast, having a face-to-face event may offer better value for money because you have a captive audience who is more likely to turn up and pay attention throughout.
If you want to talk through your options, or you're looking for suggestions on the best conferencing software to use, please get in touch.
To charge or not to charge…that is the question
If you're hosting an in-person corporate event, will you charge delegates a ticket price to attend?
There are two trains of thought here, with no immediate right or wrong answer.
If you have a free event, you will likely get many sign-ups because businesses and employees are always looking for accessible or affordable events for training and networking. However, you risk a high drop-out rate on the day because delegates may not perceive your free event as valuable. In addition, if workloads are high, your event might not be prioritised, due to it being free.
In contrast, a paid-for event is more likely to have confirmed attendance because the guests have paid in advance. But you need to decide what value you place on the entry price. Too low, and you won't cover your costs. Too high, and it could be deemed prohibitive for smaller businesses or sole traders who might not be able to justify the expense.
One of our top tips is to offer early bird discounted pricing, so the earlier you book a ticket, the cheaper the ticket price. Similarly, you could offer reduced rates in exchange for social media shares. Suppose a delegate is making a significant effort to act as a brand advocate for you and your event. Can you reward them accordingly? It would show your support of a delegate and encourage others to promote your event on your behalf, which will naturally reduce your outreach costs.
Invite sponsors to get involved
Another way to stretch your event budget and host an affordable corporate event is to invite sponsors to get involved.
This will lower your outgoings, allowing you to make more from your event budget.
Sponsorship is a tricky proposition. You need to be able to offer packages that offer genuine value for money and new sales opportunities for them. You need to create viable 'packages' to help your sponsors drive business.
For example, could you arrange for a specific sponsors-only networking/drinks event at the start or end of the day? Can you use gamification techniques to encourage delegates to visit all sponsors?
Link back to your technology choice
You could use technology to create data analytics to justify any awareness building – for example, if you have a specific webpage for your event, can you track how much traffic is being sent to those sponsor pages? If you can demonstrate what efforts you are making to promote your sponsors, you will have more opportunities to attract new sponsors next year.
Look at the wider costs of events for delegates
As part of your event planning, we always advise looking at the delegates' costs. It's not just about the upfront ticket price. It's about those hidden costs to attendees that are not always thought through.
When planning a B2B event, think carefully about how to save your delegates money and protect your budget. If you know the barriers to attending your event, you can implement strategies to overcome them.
- What are the travel times for your audiences?
- Will your event need your delegates to travel in peak-time travel? If so, could delaying your start time until midday help them to use off-peak travel tickets instead?
- If the event requires guests to stay overnight, or you are hosting an event at a hotel, can you negotiate discounted hotel prices that you can pass to your guests or your organising team?
- Will a hotel offer a reduced price for their in-house restaurants or cafes for event delegates?
- What are the nearest parking facilities or access to public transport? Choosing a venue with free parking or adjacent public transport links could make attending easier for your guests.
Reconsider your venue choices
When creating a B2B event on a budget, take the time to research different venue choices. If you are hosting an in-person event, this will be the most significant part of your budget, so saving on your venue will allow you to host a low-cost corporate event.
If you need a hotel for conferencing facilities, look around to see what options and packages are available. For example, choosing a smaller room or opting for a day-delegate rate rather than a room rate may offer better value for money.
Don't be afraid to negotiate with your venue – if you know your budget, ask them what they can offer for that budget.
We often suggest that moving to different venues can reduce your corporate event costs – even relocating to a slightly different area of a town or city can change the pricing structure dramatically.
Alternative conference venues may offer better value for money because their primary source of income isn't necessarily from their hospitality. For example, football clubs, museums and libraries often have excellent conferencing facilities at a lower price. What's more, many community halls and local conference centres also offer excellent facilities, often with full catering and parking facilities on hand. Please just keep in mind accessibility for your attendees.
Different days of the week may offer lower rates
When booking a venue, can you ask them whether they have different rates for different days of the week? For example, Thursday and Friday events are often in high demand, so venues can charge higher rates for these days. How does this compare to a Monday or a Tuesday conference?
You may be surprised by how many savings you can make simply by changing your conference date.
Can you reduce your marketing collateral?
If you're looking for a budget-friendly B2B event, try to reduce your marketing collateral spend.
Having many posters and flyers may be tempting, but excessive print costs can add up, and it's also bad for the environment. So, where possible, try to keep print quantities at a minimum to avoid unnecessary wastage.
One of our best tips for reducing your event budget is to ensure that any marketing swag is designed with longevity in mind. Creating event-specific materials, from posters and brochures to pop-up banners and giveaways, is tempting. But if they are too specific to a single event, any leftovers cannot be used after the event. So instead, we always advocate for creating marketing materials that can be timeless (such as a pen with just a URL or phone number or a notepad with just your logo) and used again. That way, you are making the most value for your money and helping your budget to stretch further.
Do your research if you want to give away free marketing goodies to your delegates, such as pens, mugs, notepads, etc. Prices can vary hugely depending on suppliers. You could find that you are paying more than you need to. Please talk to us if you want suggestions for reputable and affordable suppliers. We have a vast network of contacts with whom we have strong relationships, and we may be able to negotiate better rates on your behalf.
Helping you to host corporate events on a budget
At Inspired Occasions, we believe that corporate events should be accessible and affordable for businesses of all sizes in any sector. So, if you're looking to create a B2B event on a budget, please get in touch. We've helped businesses host thriving events on shoestring budgets, which have helped them to meet new clients and grow their businesses.
Corporate events offer a unique opportunity to build long-lasting relationships with potential new audiences, but they must be managed correctly. To find out more about our B2B event management services, please contact us via info@inspired-occasions.co.uk