Create a Fun, Child-Friendly Wedding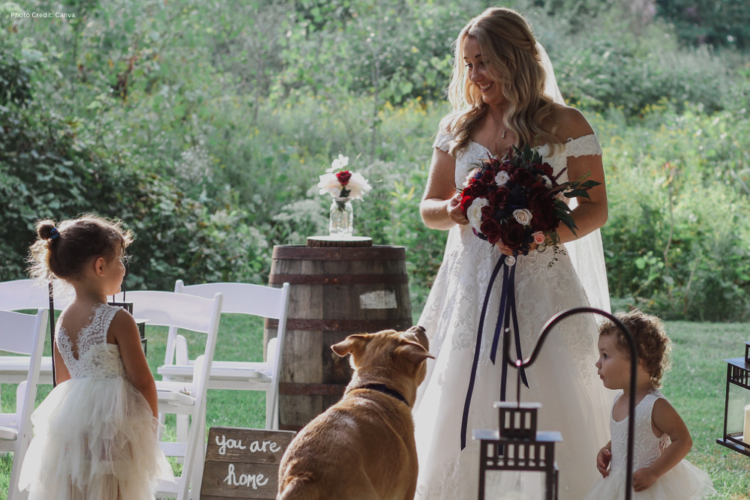 How to create a fun, child-friendly wedding
Weddings bring out a range of emotions, from members of the bridal party to families, friends and loved ones. What should be a day to remember can often get lost in the intricacies of planning.
As experienced wedding planners, one subject that always brings up a wide range of opinions is whether you should invite children to your wedding. For some, it's a no brainer. You want to enjoy your day surrounded by the people that you love. For others, weddings can be seen as a strictly adult affair, as well as an opportunity for parents to enjoy the day without worrying what the kids are up to.
We believe that there are no right or wrong opinions when it comes to inviting children to a wedding. We've planned weddings which have been centred around family-friendly entertainment. We've also advised clients on how to tell loved ones that their children are not invited.
Whatever your decision, it's important to remember that regardless of family politics or escalating budgets, your wedding should be about you and your partner.
To help you prepare for your wedding, we've pulled together a comprehensive guide to child friendly weddings.
Child friendly weddings
If you are going to invite children to your wedding, whether to the whole day or just the evening reception, you may wish to look at how to incorporate family-friendly wedding entertainment.
There's much to think about, from menu choices to music choices. You may even wish to invest in children's wedding party bags or children's wedding table activities to keep the kids entertained.
Child Friendly Wedding Venues
Your first decision is to consider your wedding venue. Some venues may be naturally suited towards children at weddings. Perhaps there is an on-site play area, or plenty of space for the children to run around.
When choosing your venue, we always recommend that you should think carefully about your guest list. Is your venue accessible to everyone? Is there anything that you can immediately spot that could be an issue for children – from baby changing facilities through to the seating plans. As you search for a child-friendly wedding venue, you may wish to look for venues that have a separate room for a chill-out zone or somewhere where young children could settle down for a nap.
If you need any advice on what to look for with a child friendly wedding venue, please ask.
Kid Friendly Wedding Destinations
If you're keen to get married abroad, you might need to consider a child-friendly wedding destination. Short-haul flights may be better suited, or a resort packed full of child-friendly pools, kids clubs or babysitting services.
Child-friendly wedding menu
During your menu tastings, don't forget to ask about the children's wedding menu options. Is there enough variety for the kids? If you're having an informal buffet, the choice will naturally be easier but sit-down meals can become complex. You may wish to stick with tried-and-trusted options, such as a plain pasta dish, or vegetable crudites for the children to snack on.
Your wedding venue should be able to make suggestions of child-friendly wedding menus that complement the adult meal choice.
Kid friendly wedding activities
Weddings can be long days, and children may need some entertainment to keep them amused through the day and evening. While many parents will likely come armed with tablets, books and small toys to entertain the kids, there's no harm in looking at some kid friendly wedding activities to add to the festivities.
These do not need to add huge amounts to your budget. Simple board games such as garden Jenga, Twister, or garden Connect4 can be picked up at low cost from your nearest toy shop. You may find that you could even pick up freebies through the likes of Freecycle. Even bubble machines can create plenty of fun for smaller children.
Many bridal parties are now choosing to set up child wedding activity packs for guests. These can be easy to make yourself – perhaps a small arts and craft activity, or an activity book with colouring, word searches, crosswords etc. We've even seen tablecloths that are giant colour-in posters. It's a great way to encourage the kids to pick up a pen and doodle and can make for some great photos!
Does your budget extend to external child-friendly entertainment?
If your budget is a bit bigger or you are looking for something more sophisticated, you could look at other options to entertain older children or teenagers at a wedding.
For example, you could hire a travelling video game truck, add in a bouncy castle or make the most of a foosball table. If there is room in your venue, you could add in a projector and broadcast a family-friendly movie with cushions and blankets for the children to snuggle into. Many projectors these days are even good enough to use as an outside cinema!
If you're looking for inspiration for child-friendly wedding activities, why not follow us on Instagram?
Children's wedding favours
Don't forget about your wedding favours. The easiest option is to have bubble wands or a small pack of sweets– always a hit with children. But if you're looking for a more sustainable and environmentally-friendly wedding, you could look at options such as sunflower seeds or a paint-your-own suncatcher, perhaps in the child's initial.
The opportunities for child-friendly wedding favours are endless. You could choose to have personalised toys such as a cuddly toy or a yoyo, or you could buy a book or small puzzle for each child. It really does depend on your budget, and how much you are willing to spend.
Inspired Occasions can plan the perfect child-friendly wedding
If you are dreaming of a family-friendly wedding, but you're not sure where to start, please get in touch.
As experienced wedding planners, we can work with you to offer tips and advice, recommend trusted suppliers and make sure that everything is perfect when it comes to your big day. We've arranged hundreds of child-centred weddings, and we know what tricks to use to make sure the kids are entertained throughout the day, and how you can capture those excited smiles and make those memories last.
We work throughout the UK, offering support to the whole wedding party, allowing you to enjoy the run up to your big day.
Alternatively, why not follow us on Instagram or Facebook, or sign up for our mailing list to get further inspiration and advice?