Choosing a wedding song: The Dos and Don'ts to keep in mind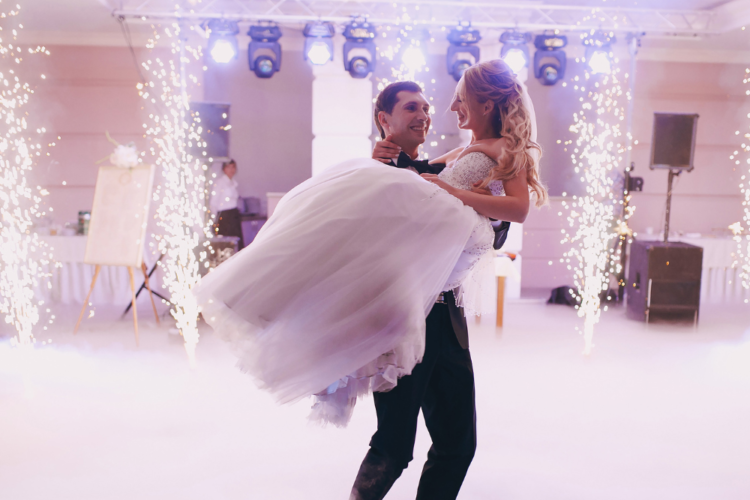 Choosing a Wedding Song: The Dos and Don'ts to Keep in Mind
There's something romantic about hearing the stories behind why a couple chooses a certain song to play an important part in their wedding. Whether it's the wedding song entry music that plays as you walk down the aisle, the wedding exit song you hear as you walk back as a newlywed couple, or the music that plays during your first dance.
Choosing the right song can be a minefield.
With so many options to choose from, it's easy to feel overwhelmed.
Should you choose the latest Ed Sheeran ballad at the top of the charts, or should you take a long-term approach and select a timeless classic?
What about the lyrics? Are they appropriate for the setting? For example, Queen's Love of My Life is a gorgeous ballad with a haunting melody. But listen carefully to the lyrics and hear Freddie Mercury sing the opening lines,
"Love of my life, you've hurt me / You've broken my heart, and now you leave me."
Yeah. Suddenly, it doesn't seem quite right, does it?
Your wedding song choice should be meaningful to you and your fiancé. We love to hear the stories behind your musical selection, as it's often a story you'll be telling your children and grandchildren in years to come.
It's completely normal to feel daunted when choosing your wedding musical selection. However, with some guidance and helpful tips, we can help you find the perfect wedding songs to celebrate your love and make your special day even more memorable.
Do choose songs that have special meaning to you and your partner
As experienced wedding planners in the South West, we've spent countless hours helping couples find the perfect wedding song for their first dance.
In our experience, it's easier to narrow down the choice when you focus on finding a song that has special meaning to you and your partner. This could be a song you both love, a band you've seen play together, a song from your favourite film, or a tune with memories of a lovely date or special occasion.
Much focus is on the wedding song for your first dance as a couple. But in our opinion, it's just as important to think about the entrance music you walk down the aisle to and the wedding song as you walk out as a married couple and even the song you enter the wedding breakfast to. Whatever the reason, choosing a wedding song selection that has personal significance will make your big day even more special and memorable.
Don't choose a song just because it's popular
While it may be tempting to choose a wedding song that is currently trending, it's important to remember that your wedding day is about you and your partner, not what's popular at the moment.
Your choice of wedding songs will be something that you can look back on in years to come. Will you still like that song in 20 years?
Of all the weddings that chose Hero by Enrique Iglesias to be their first dance back in 2001, how many of those couples do you think love to listen to that song now?
We like to encourage our clients to think carefully about the music selection. Ideally, you need your choice to be something that you will love to listen to in the future and reminisce about your big day.
Of course, if you decide to stick with something current, there are ways to make it timeless. For instance, you could choose an instrumental version of the wedding song, making it bespoke to you as a couple.
Do consider the tempo and lyrics of the song
When choosing your wedding song, it's important to consider both the tempo and lyrics of the song.
As we mentioned at the start of this article, some songs are beautiful ballads, but lyrically, they are inappropriate for a wedding. You can type any song into Google to double-check the lyrics to see if it tells your love story.
We've seen many couples opt for Sam Smith's megahit, "Stay with Me", as part of their wedding. But while it's a lovely song, the lyrics suggest that Smith yearns for someone after a one-night stand. Similarly, Marry You by Bruno Mars tells the tale of a couple getting hitched while intoxicated – perhaps not the best message to portray unless you're getting wed in Las Vegas!
If you're searching for a song for your first dance as a married couple, think about the tempo. Do you want to do an elaborate dance routine? Or a loving shuffle around the dance floor? Talk to each other about your expectations. Once you are both in agreement, it will help you to narrow your search.
Don't choose a song that is too long
When selecting your wedding song, it's important to keep in mind the length of the song. A piece that is too long can make your first dance feel never-ending, while a song that is too short may not give you enough time to enjoy the moment fully.
For your first dance, we suggest that you find a song that is about three minutes. It will give you enough time to make it to the dancefloor and enjoy the moment without feeling overwhelmed. Plus, your guests will be itching to join you on the dancefloor and start the party!
For wedding processional songs, you might want something a little longer to give enough time for your wedding party to walk down the aisle – it is always good to get a practice run in to make sure the music you have chosen is long enough!
Your wedding exit music will also need to be long enough to cover the entire congregation walking out of your venue or make sure you have a few songs lined up.
Do think about how your music matches your wedding theme
We've already explored some suggestions for how to choose a wedding theme, and your music choices could complement your theme choice.
If your nuptials are a formal affair, your wedding processional music will likely be very traditional, such as the wedding march. But if you're looking for a more relaxed and low-key event, you could opt for something else. Perhaps you're getting married outside, on a beach or in a garden ceremony. In this case, a casual acoustic guitar could be the perfect choice.
It's also worth knowing that your venue may have specific restrictions on what music choice is available as part of your wedding processional. As you make your choices, don't forget to speak to your venue contact to confirm any music selection.
Don't forget about the prelude music
Often there is so much focus on the first dance wedding song that couples forget about the wedding prelude music before the ceremony starts. This is the music that plays as your guests begin to arrive and take their seats.
This might be as long as 15-20 minutes, so you need to think about what music you could choose. If you have a live musician at your wedding, they could play orchestral versions of your wedding music selection. Or you could decide to create a bespoke playlist to play via a Bluetooth speaker, which could remain true to your wider wedding theme.
This music can then be repeated for your guests as you sign your wedding register. Please talk to us if you need any suggestions to help you plan your wedding prelude music.
Do practice dancing to the song before the big day
One important "do" when choosing your first dance wedding song is to practice dancing to it before the big day.
This will help you feel more comfortable and confident during your first dance as a married couple. After all, it's a moment when all eyes will be on you, so if you're not a natural dancer, you could find this feels very overwhelming and self-conscious.
Many couples take dance lessons to learn a few basic steps to make their dance look more polished and professional. If you need any recommendations for dance teachers, please talk to us, and we can offer some suggestions.
But our biggest tip is always to remind couples to practice – give yourself plenty of time to get comfortable with the song and the dance. That way, you can really enjoy the moment during the big day.
Don't leave your music choices to the last minute
Finally, please don't leave it to the last minute to select your wedding songs. You need to be comfortable with your choices rather than picking something last minute that you've heard on the radio.
Ultimately, we think choosing a wedding song should be an enjoyable part of the wedding planning process.
So why not curl up on the sofa with a nice bottle of wine and make your own playlist which you can use to refine your choices?
Need some help? Take a look at some Spotify playlists we have created to give you inspiration – let us know if you think we are missing any important songs!


Inspired Occasions can help you to plan your big day
We hope this article gives some points to help you select the perfect wedding song. If you're finding your wedding planning has become stressful and overwhelming, then please get in touch on info@inspired-occasions.co.uk.
As experienced wedding planners, we've helped thousands of couples to sit back and enjoy their big day. As well as helping them find their perfect wedding songs and wedding music selections, we've helped bring wedding themes to life and used our network of suppliers to turn your dream into reality.
Although our head office is in Devon, we've planned weddings throughout the South West and the UK.
To find out how we can help you, please get in touch. Or follow us for inspiration via our Facebook and Instagram pages.