Unique guest book ideas for your wedding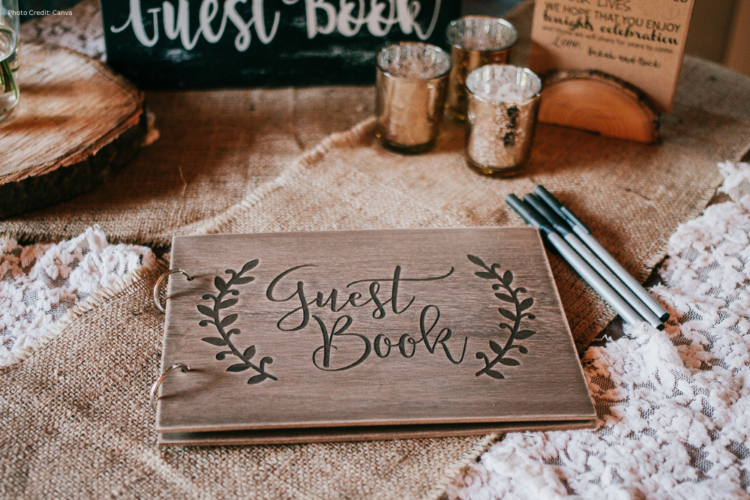 Ten unique wedding guest book ideas to create lasting memories
It goes without saying that every part of your wedding showcases a different part of your style and wedding theme, and your guest book is no different. Traditionally, the guest book is a place for your loved ones to leave you congratulatory messages to look back on in years to come. However, unlike your wedding photography which captures a snapshot in time, your wedding guest book is a memento of the love and good wishes your friends and family are offering you throughout a lifetime.
In recent years, there have been many clever wedding guest book alternatives that offer couples a chance to create long-lasting memories of their big day. While a traditional guest book remains popular, many couples are looking for ideas for a wedding guest book that can double up as a piece of artwork or can be showcased on display for years to come.
We've seen options ranging from photo frames and commemorative plaques to signed game pieces, sports equipment, and even complete technical AV infrastructure!
Here are a few ideas for alternative guest books that suit any budget!
Personalised song lyrics
Do you and your spouse have a song that sums up your relationship? Perhaps you have an affinity to the music you plan to walk down the aisle to, or maybe it will be your first dance.
To keep those memories stored forever, we love to see printed song lyrics, vinyl records or single covers on a large frame, canvas or perspex that guests can sign either on it or around it. So, every time you hear that special song, we promise you'll be reminded of the love you've received from your family and friends.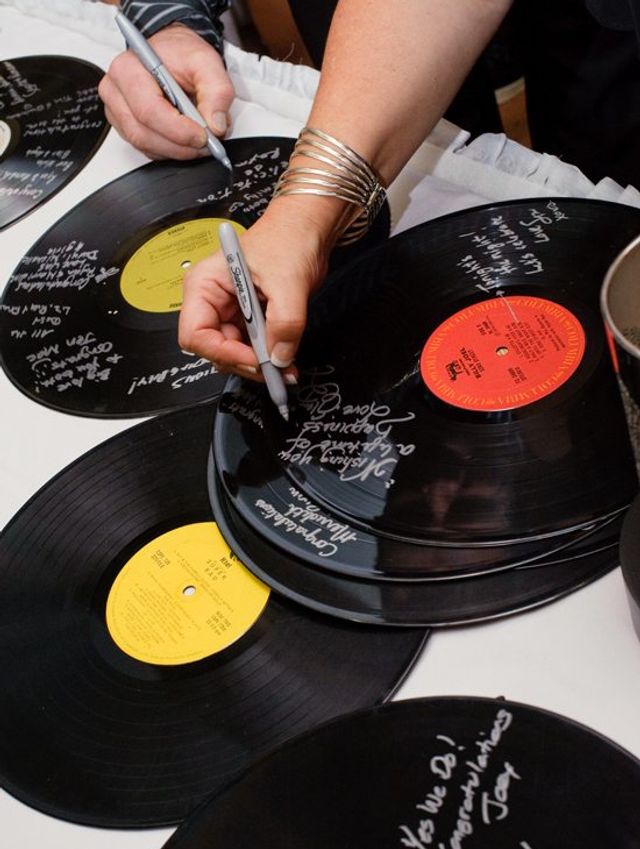 Ask guests to curate your own Spotify playlist
Sticking with the music theme, instead of written messages, why not ask your guests to recommend a particular song that they think best represents you and your marriage? or a song that reminds you? It's a great wedding guest book alternative because you can create your very own playlist jam-packed with your loved ones' favourite songs that you can listen to for years to come.
Not only will you always remember those songs and associate them with your big day, but you could also have great fun trying to match the song to the guest!
Create video/telephone messages
The ease of technology means that it's easier than ever to create recorded voice or video messages from your guests. Audio guest books don't require WiFi or internet connectivity; they simply need plugging in. Your guests can pick up the receiver and leave you a heartfelt message, which can be transferred to a USB, ready to listen back to in years to come.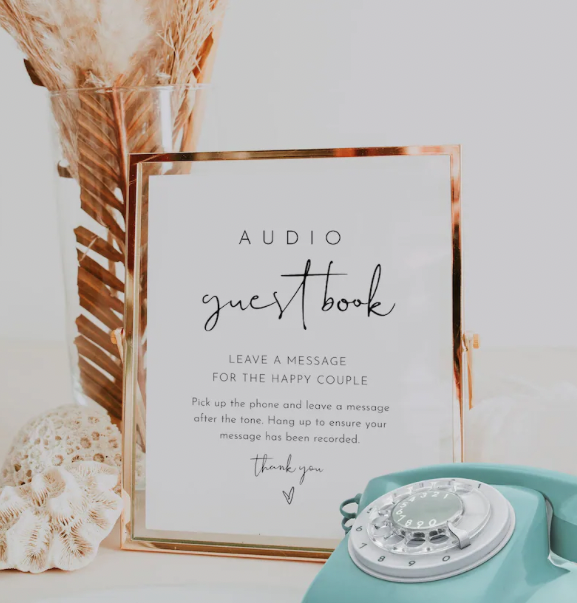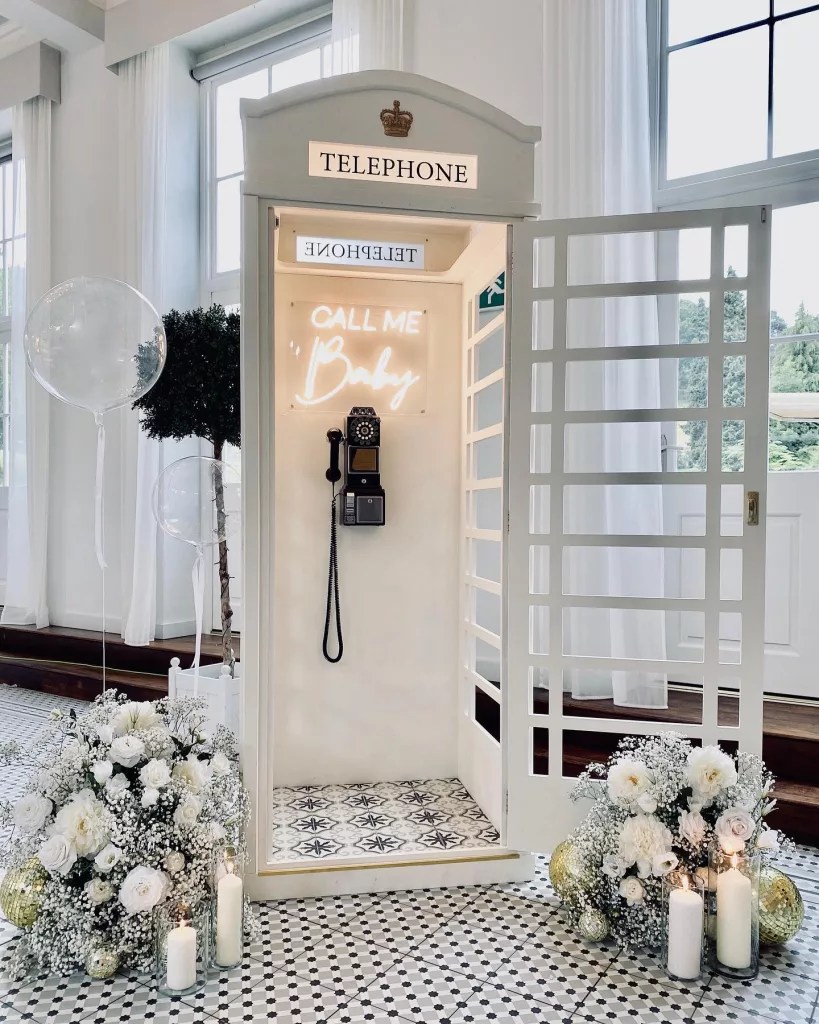 A picture tells a thousand words
You can incorporate photography into your guest book in many ways, from photo booths to Polaroid cameras. Many wedding guest books with photo slots allow you to add in your favourite wedding photos at a later date.
If you want an instant wedding guest book photo album, why not set up your own personalised Instagram page or personalised wedding hashtag for guests to use so you can access their memories from the big day.
For further suggestions on how to add photography to your wedding guest book, why not head over to our Instagram page for inspiration?
Vases and photo frames can be lasting mementoes
An easy option to create a showstopping guest book that can double up as interior décor is to use a vase or large decorative plate and ask guests to sign them with a permanent marker. You can then have the items professionally glazed, giving you a long-lasting memory of your wedding. How beautiful would it be to reuse your signed vase each year on your anniversary with the flowers you've chosen to incorporate into your bouquet?
Alternatively, why not opt for a large photo frame and ask guests to sign the frame (also in permanent marker)? You can subsequently fit the frame with your favourite image from your wedding. If you're worried about the size of the frame, why not opt for several smaller frames? You could choose matching sizes or take a mix-and-match approach to fit your interior décor and personal aesthetic.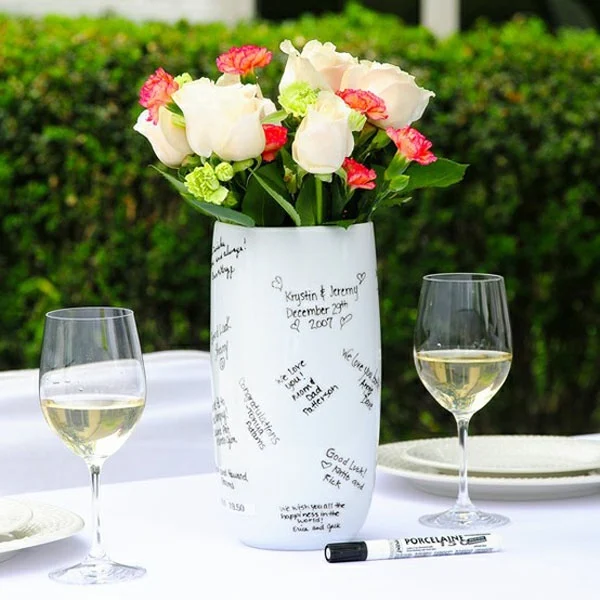 How about a message in a bottle?
We love this idea.
We've seen examples of guests leaving handwritten notes in a decorative bottle, ready to be opened on your first anniversary. Again, you could choose a large bottle or several smaller ones. You could even place a single bottle on each table, so there are ample opportunities for all of your guests to get involved.
Turn it into a game
Why not have a bit of fun? For example, you could use something simple like Jenga for a wedding guest book by asking guests to write on each block with a Sharpie. That way, every time you play a game of Jenga, you are reminded of the love shown to you by your family and friends.
If you're known for your way with words, why not look in various charity shops/ask on Freecycle for any unwanted Scrabble games? With a series of boards (and many Scrabble tiles), you could ask your guests to choose a word (or two) that they think represents you as a couple. Then, you could ask your guests to glue those words to the board using your tiles. Alternatively, here is a great way to physically convert a Scrabble board into your physical guest book.
Linking in your guest book with your centrepieces or table décor
If your budget is tight, or you are looking for a way to make sure that all of your guests are reminded to sign your guest book, why not incorporate your guest book alternatives into your table décor or double up as a centrepiece?
We've already mentioned how you could use items like a vase, bottle or photo frame – these could all be easily included within your table settings.
Take a trip around the world
If you love travel, why not ask your guests to sign a wedding guest book globe? It will give you something to have on display as interior décor, and you could use it as travel inspiration to take your next trip. In addition, you could ask your guests to sign their messages on the countries/continents where they think you should visit next – that way, you can constantly be reminded of your loved ones.
Commission a painting of your venue for guests to sign
Finally, why not include your venue or familiar location as a clever wedding guest book idea?
You could choose an image (or images) of locations with personalised meanings, such as your wedding venue, proposal venue or even the place where you first met and have them commissioned as a painting or sketch. Then, you could print them on a foam board and ask your guests to sign around the picture.
This doesn't need to be hugely expensive – sites such as Etsy or Not On The High Street may have affordable options that you can use or even ask your planner, they may have suppliers who can create this for you within your budget.
Why choose an alternative guest book?
You might choose to opt for a different wedding guest book for many reasons. Perhaps you want something more unique or something that represents you as a couple.
The glory of a wedding guest book is that it can truly represent you. It can be something you showcase for years to come, or it can be something you look back on each year as you celebrate your anniversary.
If you follow us on Facebook or Instagram, you can find more inspiration for clever wedding guest book ideas. Alternatively, why not get in touch if you need help and guidance to personalise and plan your wedding? At Inspired Occasions, we work with couples across the UK to plan your big day or celebratory party. We work with suppliers nationwide and we're sure we can help you find the perfect guest book to match your wedding theme.