Tis the season to host a Christmas-Time Wedding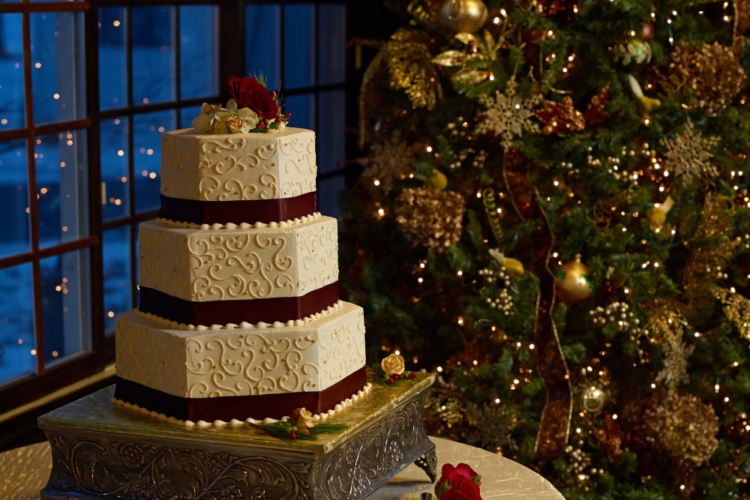 So, you've decided to tie the knot during the most wonderful time of the year?
We're lucky enough to get to attend weddings all year round, but there's something really special about a Christmas wedding. Perhaps it's because most couples choose to get married in the summer months; having a festive theme can feel completely unique – and if you love the season (like we do), you can go as big (or little) on your theme.
With twinkling lights, cosy vibes, and a touch of festive spirit, we promise that your special day is bound to be unforgettable for you and your guests.
We've helped to plan many winter weddings, and the Christmas period is always a great opportunity to embrace the time of year.
In this informal guide, we'll chat about everything you need to know about how to make your Christmas wedding a winter wonderland.
Everything always starts with choosing the perfect venue
First things first, let's talk venues.
Your wedding planning will begin in earnest once you've selected your date and chosen your venue.
If you're hoping for a December wedding, you might need to decide early on whether you want to embrace the Christmas theme and lean into it or whether you want to minimise the festive focus.
It would help if you made this decision before you choose a venue because some venues, such as luxury hotels, will be decked out with Christmas trees and decorations from the start of November. If you want to maximise the Christmas theming, then it could save you time (and money) in terms of wedding décor. But if you're trying to reduce the focus, you'll be better off opting for a barn-style wedding, which will give you creative freedom to decorate as you please.
We often advise couples that choosing a venue is not just about the seating capacity and transport logistics. It's also about how much time and effort you want to put into your big day. Some venues will manage everything for you, while others, like village halls or marquees, will require you to manage everything yourself, which is a considerable stress to consider in the lead-up to the wedding.
If you're not yet sure whether you want to embrace the Christmas spirit, why not check out some of the inspiration on our Instagram page? Sometimes, seeing examples of what you do and do not like can help refine your decision-making.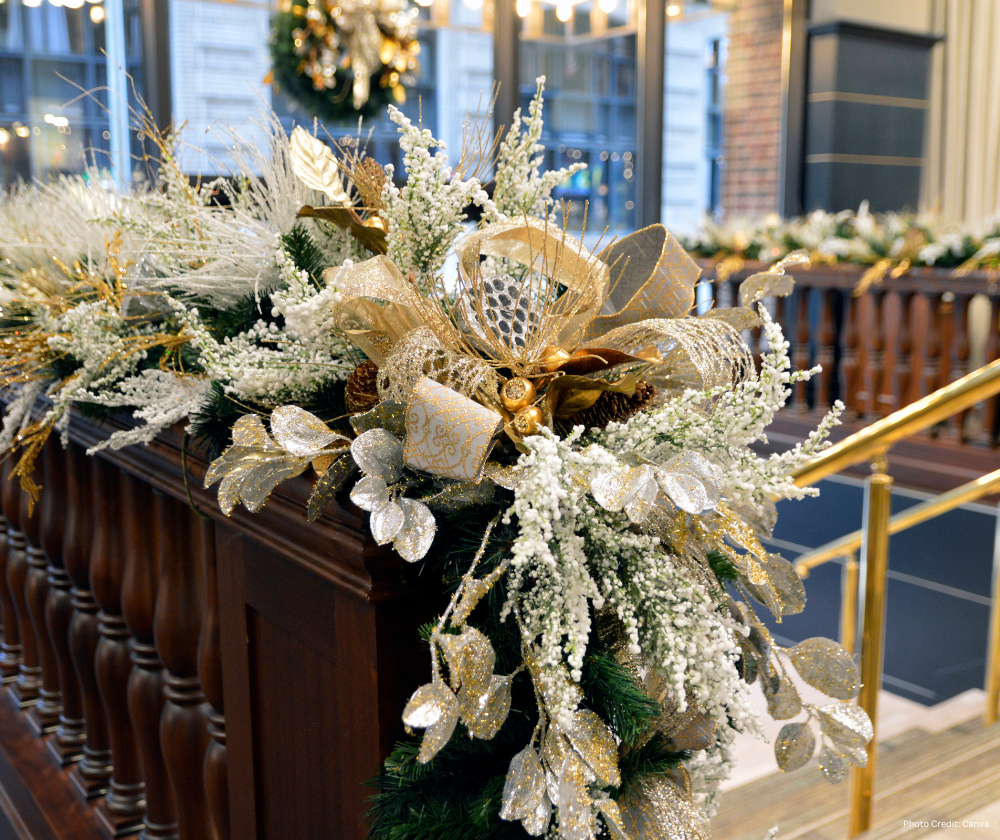 Timing is everything during the busy season.
Getting married anywhere close to the Christmas season has its perks and challenges. Choosing to get wed between Christmas or New Year may be tempting, but even during the wider period (perhaps from mid November onwards) can be complicated as people's lives get busier and venue availability becomes more limited.
We always advise that you think carefully about your date – especially if you're planning a larger wedding.
Let's look at the advantages and disadvantages in more detail…
Advantages of a Christmas wedding
On the bright side, if you choose the week between Christmas and New Year most people are off work and school during this time, which potentially makes it easier for your guests to attend.
If you're getting hitched at this time, you could opt for a mid-week ceremony, which might be slightly cheaper. If the majority of your guests are taking the whole Christmas period as annual leave, you may find that a mid-week celebration is welcomed by your loved ones – especially as it could give a focus during that weird week where no one ever knows what day it is!
Leaning into the Christmas theming as chosen by your venue could save you significant amounts of money on your wedding décor. If you're decorating your venue yourself or arranging your own drinks/catering, you could take advantage of the various offers in the supermarket, which could also save you money.
We love the idea of buying specific Christmas decorations for your wedding, which you could use again in your own home year after year! Not only is it environmentally friendly, but there's something hugely romantic about reminiscing each year about your weddings as you put your decorations up!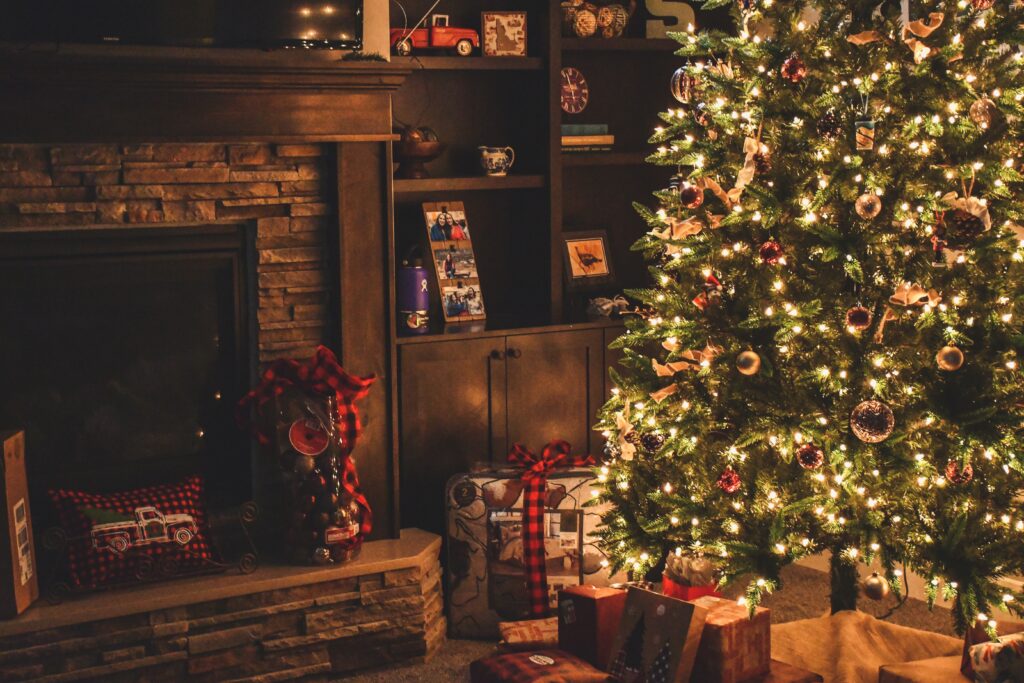 Disadvantages of a Christmas wedding
But there are a few downsides.
Christmas is a hugely busy time of year for many people. It's not uncommon to have to juggle office Christmas parties, family gatherings, Christmas shopping, and gift-giving all within a few days. If you're choosing a date in the lead-up to Christmas, you could find that your guests are unavailable, or they may be struggling for cash because of the time of year.
If your wedding date is around the school holidays, think about the time of day for your ceremony. Every year, the news is full of stories of gridlocked traffic as families hit the roads to see their loved ones. Often, train fares or flights may soar in price, which may also cause more difficulties for guests travelling from far away.
Our top tip for overcoming these issues is to send out your save-the-dates and formal invitations as early as possible. If you can give your guests enough notice of your nuptials, they can take advantage of early transport prices or make sure that your wedding date is in their diary.
Deck the Halls (and more)
Now, let's dive into the fun stuff – decorating and theming.
If you're choosing a December wedding, we know that you're more than likely to embrace the holiday spirit. And with a Christmas wedding theme, you can go as big (or as little) as you want.
We love to see huge Christmas wedding décor, but there are also hundreds of ways you can incorporate a subtle nod to the theme in your planning.
Let's look at the easy ways.
– Colour scheme. While we would typically say anything goes for your colour scheme, a December wedding naturally lends itself to colours like green, red, burgundy and gold. Opting for spring-like pastels would feel a little strange during the Christmas season. You could choose creams or whites as your primary colour, with the additional palette as subtle accents, or you could go bold. IF your venue is decorating their foyer or their rooms with Christmas theming, why not ask them what their colour scheme is – it could tie your theme together.
– Table décor. There are many ways you can handle this, from personalised Christmas crackers to sprigs of mistletoe on each place setting. For your centrepieces, why not consider something like tapered long-stemmed candles surrounded by pretty baubles?
– Floral arrangements. The traditional Christmas flower is the Poinsettia. Why not incorporate this stunning bloom into your bouquet? Other options include the Amaryllis, Azalea, and red roses. For foliage, think about bringing in pine cones, berries, eucalyptus or spruce. The scene would be amazing!
– Favours. You could choose to hide your favours within your Christmas crackers or opt for a pretty bauble to give to each guest – perhaps personalised with the date of your wedding. For younger guests, what about a mini reindeer that they could decorate or a small hot chocolate jar? You could even arrange a fun, personalised stocking to hang on the back of their chair!
We love getting inspired for a festive wedding. If you would like some more ideas or suggestions, why not send us an email?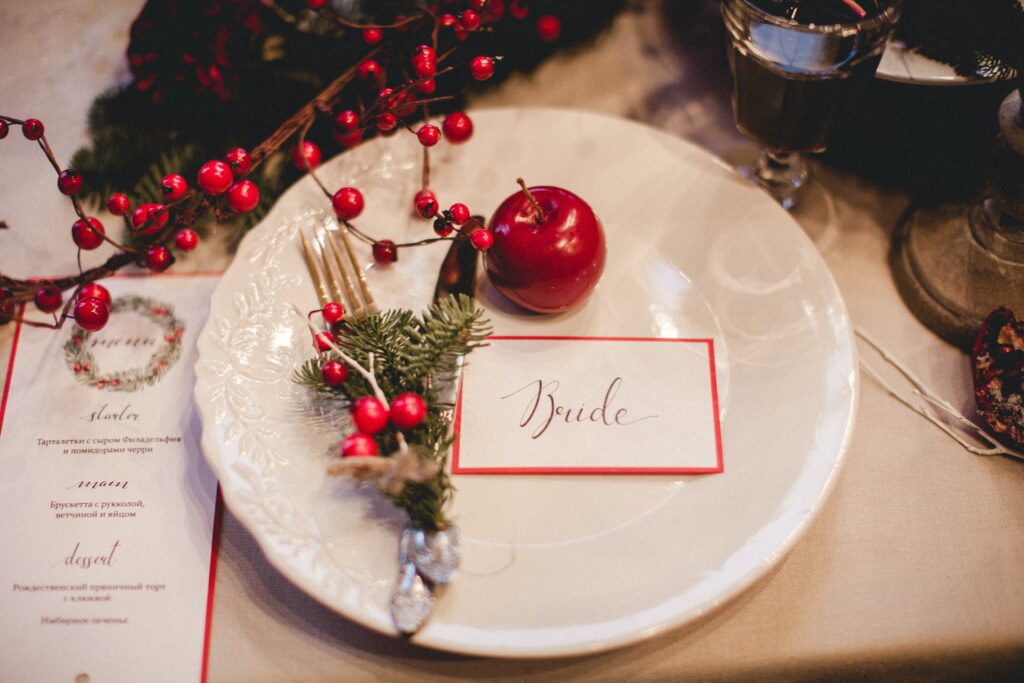 Adding a touch of Christmas to your wedding
The joy of Christmas doesn't just stop at the theming.
As we've mentioned, we've helped couples across the UK make the most of their Christmas weddings. Some have chosen to really embrace the season and used the theme for everything from their music choices to their menus.
If you do want to add those Christmas touches to your special day, why not think about the following touches?
Hymn Choice: If you're getting married in a church, it makes sense to include classic Christmas hymns in your ceremony for a heart-warming touch. The added bonus is that you can be sure that the congregation will know all the works and will belt out the lyrics at the tops of their voices!
– Entrance Music: Many Christmas hymns have stunning orchestral arrangements, which make them perfect for your entrance or exit music. We love the idea of something like O Holy Night or Silent Night as an accompaniment as you walk down the aisle.
– Décor: We've briefly touched on this. But why not make the most of wreaths, ornaments, and twinkling lights to create a winter wonderland atmosphere? Many of these you could easily buy in advance from supermarkets or discount stores like The Range or B&M.
– Menu Choices: When hosting a Christmas wedding, you could bring the time of year into your menus. We often talk about using seasonal produce, so why not make the most of traditional choices, such as a roast turkey dinner? For your dessert, you could bring in mince pies as petit fours or even a Christmas Pudding for each table!
– Consider Guest Comfort: If it's going to be cold, why not provide blankets, shawls or even a hot chocolate bar to keep everyone warm and toasty? A luxury hot chocolate reception instead of a prosecco reception could make great photos for the 'Gram!
We always plan for any weather worries
Ah, the weather – the unpredictable factor of winter weddings.
Unfortunately, the weather in December is notoriously unpredictable. You could have bright sunshine or a 6-inch snow drift! There's really no way of knowing!
But whatever the weather, it's important to have contingencies in place.
In our role as wedding planners, we undertake risk assessments so we can plan for the unexpected. For example, what would you do if adverse weather conditions (such as snow or ice) made it difficult for your guests or your suppliers to arrive on time? The last thing you want is for a guest to slip on ice outside the church entrance or for your photographer to be delayed because of a heavy storm.
One thing we always advocate for is wedding insurance. This may not make things happen on the day, but it will guarantee that you're not financially responsible for any issues that could occur. For example, if your wedding venue experienced a flood or the majority of your suppliers were unable to arrive due to weather conditions, your insurance would potentially pay out.
For just a few pounds, you could be protecting yourself and your finances.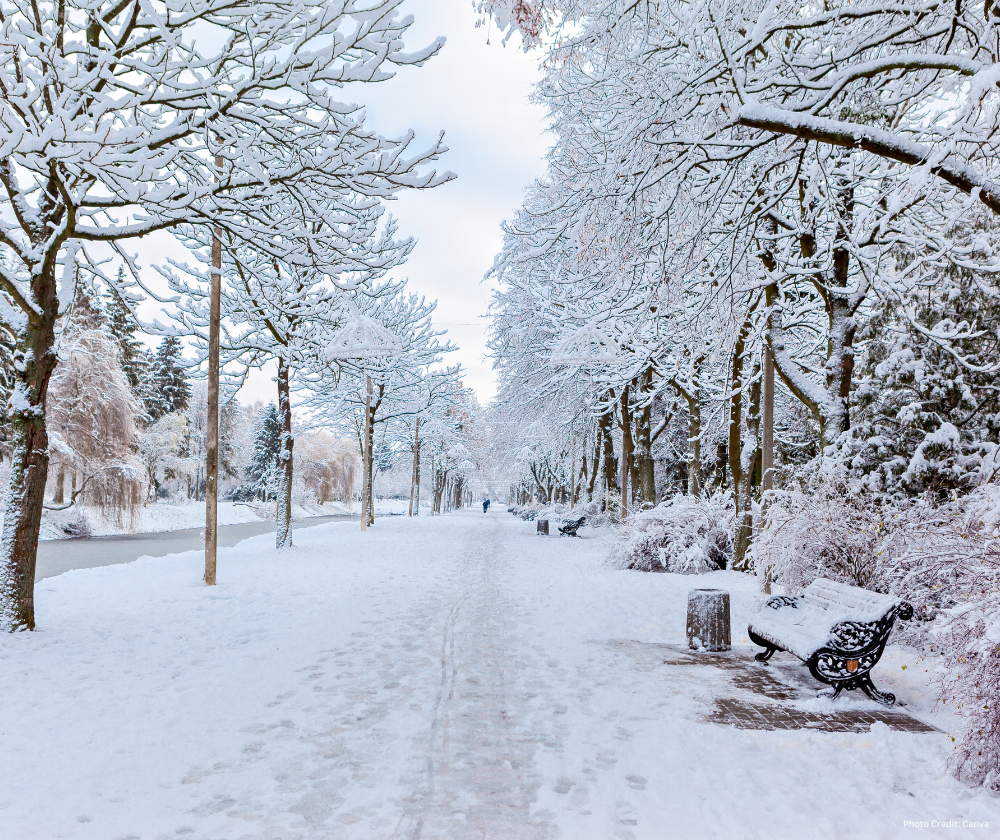 We love Christmas weddings!
Christmas is a time for joy, love, and creating lasting memories. It's the perfect time to bring two families together and to find ways to entertain the kids.
Our top tip for anyone planning a December nuptials is to plan ahead, embrace the season and pay close attention to the weather.
With some careful preparation, your Christmas wedding will be an enchanting celebration that everyone will cherish.
If you're looking for inspiration for your wedding, please talk to us. Our head office is based in Devon, but we plan weddings for clients across the South West and throughout the UK. With our network of contacts, we can find the right suppliers to bring your vision to life. All you need to do to get started is pick up the phone and give us a call.
We can't wait to get started! Follow us on Instagram or Facebook for more inspiration.