Halloween Best Buys 2023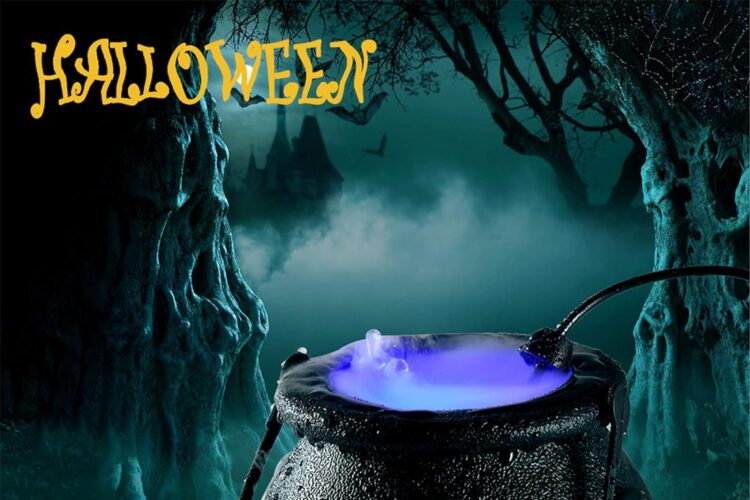 It's that time of year when pumpkins, ghosts, and ghouls take centre stage. If you're planning on throwing a Halloween party in the UK, you've come to the right place. We've got all the tips and tricks to make your gathering a scream-worthy success. So grab your broomsticks, pick up your cauldrons and get ready to Trick or Treat because we're about to conjure up the ultimate Halloween bash.
As professional party planners, we know how to make your party eerie-sistible and get all of your guests under your spell.
So let's get ghouling.
By the time you've finished reading this article, you'll be throwing the scariest bash that Sleepy Hollow has ever seen!
Please note that any Amazon links are affiliate links, and we may earn a small commission for any purchases bought through our recommendations.
Halloween decorations to die for
First things first, let's set the stage with spook-tacular decorations.
Right now, the UK is really upping its game when it comes to Halloween decorations, and more often we're starting to see houses decorated for the season a week or two in advance.
Whether you're going for a classic haunted house vibe or something more contemporary, here are some ideas to get your creative juices flowing:
Pumpkin Parade: Carve out some time to create pumpkins with eerie faces and strategically placed candles. Scatter them around your party area or create a pumpkin path to guide your guests along your footpath to certain doom.
If you're not sure how to up your pumpkin game, why not invest in a pumpkin carving kit? With a variety of knives and stencils, you're sure to be able to make something really seedy! We love this 13-piece pumpkin carving set!
Buy Here: Halloween Pumpkin Carving Kit
Cobwebs Galore: There's absolutely nothing scarier than spiders. If you're looking for Halloween decorations then fake cobwebs are a must! Drape them across furniture, lamps, and even your front door for a spine-chilling effect.
These spider web decorations are great for indoors and outdoors and can be used year-after-year. So why not go nuts and decorate your entire front garden? It's sure to scare the trick or treaters!
Buy Here: Halloween Spider Web
Haunted House Silhouettes: If haunted houses are more your thing, then you could set up a Bluetooth speaker near a window and set it to play spooky sounds all night. You could even change your ring doorbell tone to play the sound of someone screaming every time someone knocks on your door. As an easy trick why not cut out cardboard silhouettes of spooky figures and place them in windows or on the walls. It'll look like your house is haunted!
If you want to go a bit further, why not turn your front garden into a graveyard? With skeletons emerging from the ground, or hanging ghosts from trees, you can transform your semi-detached into a haunted house of horrors.
We love these 3D gothic portraits. They look incredible hung up on the wall and are sure to scare your friends every time they look at them!
Buy Here: Halloween 3D Moving Picture Frame
Creepy Costumes
Now, let's talk costumes. We're not talking about regular fancy dress. In our view, Halloween costumes are the time to embrace your inner ghoul and have some skele-fun.
Encourage your guests to embrace their inner monsters with these ideas:
Classic Creatures: Vampires, witches, werewolves, and zombies never go out of style. Dress up as a classic Halloween character or put your own twist on it. Thankfully, Halloween costumes are more accessible than ever before, with the supermarkets stuffed full of costumes for kids and adults.
Our top tip is to always look in the sales for last minute bargains – you'll be surprised by what you can pick up on the 30th and 31st October!
There are some great Zombie costumes on Amazon. Our favourite is the Graveyard Bride outfit – the perfect addition to your haunted mansion.
Buy Here: Halloween Graveyard Bride Costume
Movie Magic: There are so many movie characters that you could lean into with your costume choice; from the family friendly Harry Potter outfits through to scream-fests like Freddy Krueger, Jason Voorhees. We personally love seeing kids dressed as the Sanderson Sisters from "Hocus Pocus" – who wouldn't want to be Winifred?
If you're looking for something simple, a hooded clock could double up as a Dementor from Harry Potter or you could claim to be the grim reaper. Adding on a white mask could also turn you in the Phantom of the Opera – the possibilities are endless!
Buy Here: Gothden Adult Halloween Costume
Fang-tastic Food and Drink
Now, let's talk about the grub. Your Halloween party menu should include a mix of spooky and tasty treats. The good news is that the list is endless – there are so many ways to add interest to your foul feast, from frozen, peeled grapes which can double up as eyeballs to jelly filled with gummy guts.
You can serve pumpkin pie, eyeball jelly, monster pancakes, candy apples and monster biscuits. And don't forget to have a cauldron full of sweets for trick or treaters.
But the serving platter is where your feast will really pack a figurative and literal punch.
Instead of boring white plates, why not turn your grazing table into a feast that Morticia Adams would be proud of. Think black table cloths, added cobwebs (perhaps matching your exterior décor), fake spiders and orange fairy lights scattered around.
To really add to the atmosphere, why not use this mist-making cauldron as your table centrepiece? The changing LED lighting, the mist and the spooky sounds will scare the kids away from the sweets – guaranteed!
Buy Here: Colour Changing LED Halloween Witches Cauldron with Fog
Petrifying Playlists
Finally, what's a Halloween party without some spooky sounds? Halloween music is great – you can creep it real on the dance floor, parting with your ghostly pals all night.
Here's a few of our favourite Halloween tracks to add to your playlist or to save yourself time, you could just play the one we have created – click here!
– "Bad Guy" – Billie Eilish
– "Ding Dong! The Witch is Dead" – The Wizard of Oz
– "Ghostbusters" – Ray Parker Jr.
– "I Put a Spell on You" – Bette Midler
– "Look What You Made Me Do" – Taylor Swift
– "Monster Mash" – Bobby "Boris" Pickett
– "Monster" – Lady Gaga
– "Somebody's Watching Me" – Rockwell
– "Superstition" – Stevie Wonder
– "The Addams Family" Theme – Vic Mizzy
– "The Phantom of the Opera" Overture – Andrew Lloyd Webber
– "This is Halloween" – The Nightmare Before Christmas
– "Thriller" – Michael Jackson
– "Time Warp" – The Rocky Horror Picture Show
– "Witchy Woman" – Eagles
– "Zombie" – The Cranberries
Are you now ready for Halloween?
With these tips, your Halloween party in the UK is sure to be a spook-tacular success. So go ahead, don your best costume, whip up some eerie treats, and dance the night away to some haunting tunes.
We hope that this life gives you some helpful hints to turn up the screams for your party, but if you need a little added brainpower, why not give us a call? It's not too late for us to help you become the ghostess with the mostest.
All you have to do is pick up the phone and find out what we can do! Alternatively, if you need any inspiration, why not head over to our Instagram or Facebook page.