A behind the scenes look at destination weddings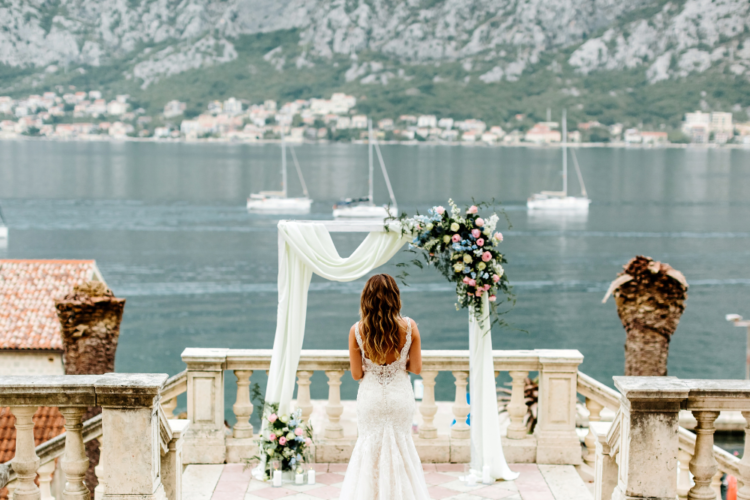 A Behind-the-Scenes Look at Destination Weddings
There's something magical about a destination wedding, whether you dream of standing on a paradise beach with white sand, saying your "I 'do's" in front of the Eiffel Tower, or even getting your party started in Las Vegas; these days, there is something for everyone, and destination weddings are increasingly popular.
According to research from finder.com:
"1 in 4 British couples decide to have their wedding abroad." Italy is the most popular foreign wedding destination, and "17% of Brits plan to attend a wedding abroad in 2023."
With so much pressure on wedding parties to host a lavish and over-the-top celebration, we can see why a combined wedding and honeymoon appeals to so many. After all, depending on your destination choice, you may be guaranteed gorgeous weather and have a chance to visit somewhere you've already dreamed of and it can be more budget friendly combining them.
But before you get carried away browsing the latest holiday deals on booking.com or wedding packages with a tour operator, we've compiled some destination wedding advice to help you with your plans.
What appeals most, a beach or a city wedding?
Your first decision is to consider what type of wedding you want. That will help you to nail your final destination. Do you dream of a sunset ceremony on the beach, or do you want to visit a city you've always dreamed about or a place with special meaning?
Where are the best places to get married abroad? Well that depends on your personal interests and how you envisage your big day. Some places are easier to get married in than others; for example, Las Vegas and New York offer easy destination weddings, but you might be dreaming of a Bajan beach resort, or a Mauritian paradise. There are so many nice places to get married abroad, that the possibilities are endless. They are limited only by your imagination (and your budget!).
Searching for a wedding abroad takes more than browsing a few travel brochures. You need to consider whether you want to ask guests to take a long-haul or short-haul flight, whether there are any language barriers or if you need a visa or specific vaccinations as part of the travel itinerary.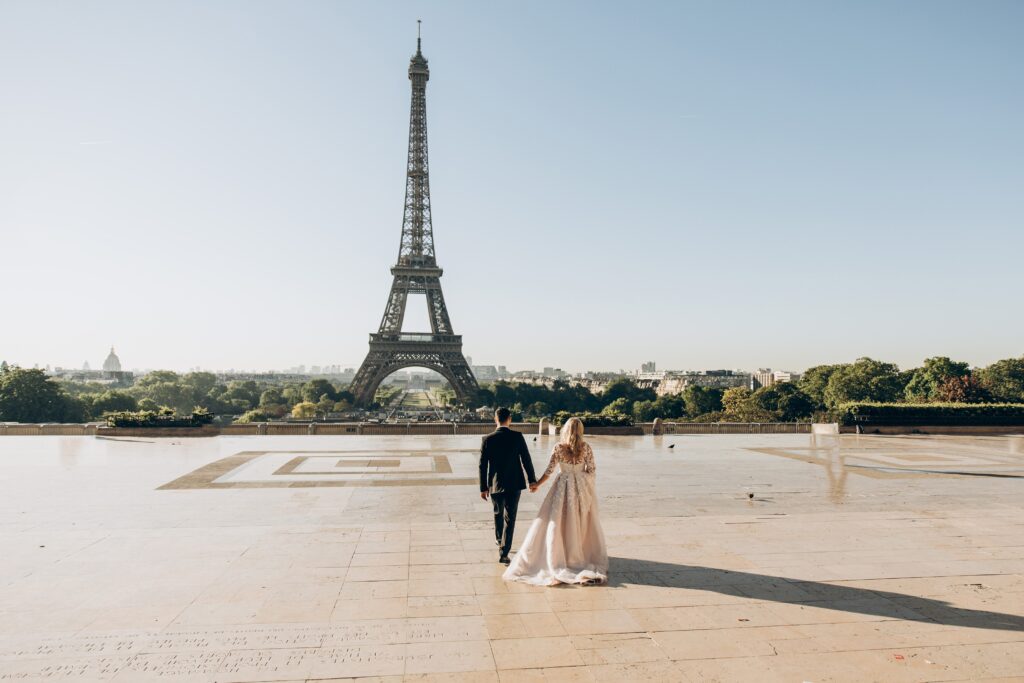 Giving advance notice to your guests
Typically, most wedding parties send out a save-the-date card as soon as they have booked the venue and a formal invitation up to six months before the big day. If you invite guests to accompany you as you get married abroad, it's kind to consider giving more notice, allowing guests the time to save up to pay for their flights or hotels.
As experienced wedding planners, we suggest offering at least a year's notice to guests if you ask them to use their annual leave or forfeit their yearly holiday to attend. When you talk to a travel agent or your wedding planner, why not ask if you can secure discounted rates for group bookings?
Being conscious that not everyone may be able to attend
Hosting a wedding abroad is not without its complications. You may imagine your loved ones will follow you anywhere to celebrate your union, but sometimes financial and practical realities may kick in.
There could be any number of reasons why a guest may be unable to attend your destination wedding. Perhaps they might be unable to take time off work (particularly true for those in the teaching profession), or their finances mean they cannot afford to attend. After all, finder.com suggest that:
"Brits spend £1,922 on average to attend their family and friends' weddings abroad."
While it is great that you want to invite your loved ones to celebrate your wedding, we recommend that you remain realistic and understand that your choice to marry abroad may naturally limit your numbers.
But that doesn't mean you can't still celebrate. After all, you can still have a wonderful UK reception. You could even arrange a live stream of your wedding for your UK guests, allowing them to see the wedding "live", even while sitting on their sofa in their pyjamas!
Creating a celebration back home for your loved ones
We've organised many UK wedding receptions for clients who got married abroad. These welcome-home parties are a great opportunity to wear your wedding dress for a second time (plus, you get the bonus of having a second wedding cake!). If there are a few weeks between your destination wedding and your UK reception, you can decorate your venue with photos or videos from the day. You can even choose a wedding décor theme based on your chosen destination!
The possibilities are endless, and the beauty is that you get to celebrate your wedding twice.
Weather considerations for your preferred destination
When choosing a wedding destination, make sure you do your due diligence. Think about the typical weather for that time of year.
A Caribbean beach wedding sounds amazing – but June till November is the official hurricane season. Similarly, a Vegas or Dubai wedding will always be a wild party, but temperatures can reach 40+ degrees in the summer months, which could be stifling while wearing a big wedding dress or a morning suit.
Transporting your wedding dress abroad
We've helped many brides figure out how to transport wedding dresses abroad. After all, you wouldn't want to include it in your luggage in case it got lost in transit.
There are special boxes you can use to store your wedding dress that can double up as your hand luggage. We can help advise on particular luggage types and ensure that your wedding outfits and other items of importance arrive in perfect condition.
Should you honeymoon in the same destination as your wedding?
Extending your honeymoon in the same location as your wedding may be tempting, but remember if you've invited your family and friends along, and they choose to extend their holidays after your wedding, you could inadvertently have to share your honeymoon.
For some, this may not be an issue. It could mean a perfect opportunity to extend the celebrations. But other couples may prefer a little privacy as they start to enjoy married life. You could always consider a different hotel or another destination close by if privacy is what you are after.
There's no right or wrong answer when it comes to destination weddings, but it is something that we think you should consider so that you're not caught out after your big day.
Peak season could mean lots of tourists.
Another point to think about is that if you choose to get married abroad, you could be selecting a time that is peak season. Apparently, even Kourtney Kardashian didn't take this into consideration for her wedding to Travis Barker, in the small Italian coastal town of Portofino (not sure I believe this!).
Wedding images you see on Pinterest and Instagram will be heavily photoshopped with tourists and other elements removed. It's always worth considering how tourists could impact your wedding photos.
Imagine you choose to get married in Rome and want to take photos of you and your fiancée in your wedding outfits in front of The Colosseum or the Trevi fountain. You will likely struggle to get pictures without a hoard of tourists in the background, so you may need a photographer with excellent Photoshop skills or one with vision where tourists can be included in the shots.
Again, this may not be an issue for you. But if you are naturally introverted, you could find it a shock to the system if you are the centre of attention beyond your immediate family and friends. Another idea to consider is visiting late at night or early in the morning to try and avoid the crowds – you may then need to consider your schedules for the day and if your photographer will charge you more for this.
Accessing local suppliers
If you book a destination wedding with a reputable travel agent, they should have their wedding planners who will give you the details of any local suppliers. You may wish to choose a local photographer, a hair and makeup artist, a florist or even someone who can steam any creases out of your gown.
Do your own research beforehand. Don't be afraid to ask on various wedding forums or social media. You may be surprised to discover some fantastic word-of-mouth recommendations.
If not drop us a message, we have a black book full of recommendations, including local bands, string quartets and other fantastic wedding entertainment.
Will your destination wedding be legal?
Finally, before deciding on anything, always check the legalities of your destination wedding. We would hate for you to travel all that way to discover that your marriage is not official.
Of course, you need to check the validity of your passport (as well as your intended witness' passports). But you might also need to apply for a Certificate of No Impediment (CNI) to confirm with the local registry office that you can legally wed. In some locations, you may need to fulfil local obligations, such as publishing your wedding notice before any wedding licence application.
It's worth knowing that destinations like Spain or France may not allow you to get wed in a civil ceremony, so you might need to undertake the official legal ceremony in the UK before you travel – perhaps at your local registry office or why not travel to the big smoke and have a registry office in London. Think of the pictures!
Other glamorous locations, such as Mexico, may even need you to have a local blood test or obtain a health certificate alongside a specific visa to ensure the legality of your marriage.
Finally, if your wedding certificate is written in a different language, it may also need to be translated into English by the British Embassy to be made legal.
You can find the legal implications of marrying abroad on the government website.
Talk to us about how you can get married abroad!
If you're considering getting married abroad, why not talk to us? As experienced wedding planners, we can help you with the logistics of planning a destination wedding and finding the best ways to celebrate when you return to the UK.
We hope that this article has given you some advice for planning a destination wedding. If there's any questions that you have, please send us an email on info@inspired-occasions.co.uk or use our contact us form.